Bundang is an area that I lived in for over a year and grew very fond of. It is a well planned city with generally good roads and excellent transport links. While being situated in Gyeonggi-do, I was impressed with how quickly one could travel to different parts of Seoul by bus. Times were similar to if you were travelling within Seoul itself but travelling by subway was a different story. The yellow Bundang line was generally a slow and tedious ride. One of the main reasons was due to so many stations being built ridiculously close together on the Seoul end. This area being Gangnam, many say that some 'rich and powerful' residents living in the area had influence over this, even though they don't generally use the subway themselves. This left the Bundang line a reliable but aggravating journey of stopping and starting for most commuters.
Thus, since the original Bundang line was generally screwed up as an effective link for those living in Seongnam, a new line was proposed, one which was to be a lot faster and with a lot less stations. The new line is called the 'New Bundang Line' (신분당선 or Shinbundang Line) and it is expected to open on October 28. While it was originally intended that the line be opened in September, due to the serious flooding in Gangnam over the summer it was delayed by a month. The trains being used will have the ability to be controlled without a human driver. The only other public transport which uses this technology is Busan's Line No. 4.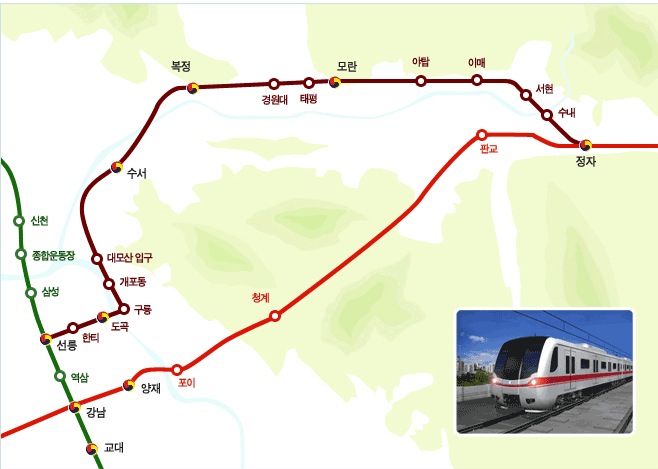 There are only six stations on the line and speeds average at more than 65 km/h, much faster than the Bundang line's 30 km/h average. Here is a brief introduction of the short line and why you should look forward to riding it.
The line will start at Korea's busiest subway station, Gangnam Station (강남역) (Line #2). Now it is about to get even busier and I do not envy those that will be using the station once it opens. Nevertheless, the fact that this line goes straight to Gangnam Station will attract a lot of workers who live in Seongnam and even Yongin to ride in on the line. Of course, Gangnam is also one of the biggest nightlife spots in the country and those living in and around Bundang will be able to enjoy the fact they will be able to stay out longer and still get home quickly.
Next it connects with Line #3 at Yangjae Station (양재역) which is also quite busy due to the number of businesses situated around it. After that is the first brand new station called Yangjae Citizens' Forest (양재시민의숲역) which is situated conveniently at Yangjae Citizen's Forest, a popular get away for busy Gangnamers. Again, this forest will be a lot busier now, especially in the weekends with families I imagine.
Moving out of Seoul you will find yourself at Cheonggye Mountain Entrance Station (청계산입구역) What a mouthful! A well known hiking destination which is also about to get a lot easier to travel to. How wonderful it will be to ride just 10 minutes from the smokey streets of Gangnam on the subway to be surrounded by mountains and trees!
We are then back to civilization in the brand new city of Pangyo (판교). Pangyo Station will be a wonderful asset to the new residents who work in the Gangnam area.
The final station (so far) is Jeongja Station (정자역). Here it meets the original Bundang line where many commuters will transfer. Jeongja-dong is like the Apgujeong of Bundang. It is home to the well known 'Cafe Street' with many modern style shops equipped with decks and outdoor dining.
And there you have it! Let's just hope that the opening does not get delayed again, a common trait of most new lines. There are plans for extensions to both ends of the line but I will talk about them in a future post.