A belated Merry Christmas to all! Unfortunately work and post-graduate study has meant I have not been able to devote much time to blogging. Rest assured, in two weeks once the holidays are here, I will be posting much more often. In the meantime here are a couple of news snippets.
Bundang Line Southern Extension Opens
Today the southern extension of the Bundang line opens from Jukjeon (죽전) to Giheung (기흥). It is hoped that the opening of the line and Giheung Station will finally bring about the opening of the Yongin Everline, which was completed a year and a half ago. The Korean Folk Village also expects to benefit, located just south of the same station.
Although Giheung will be "future-proofed" for express trains with an island platform the same as Ori(오리) and Jukjeon(죽전) stations, there is still no official word on whether such a service will be possible. Trains on this section will run every 8 minutes during peak hours and every 12.5 minutes during off peak hours.
The full extension, which will eventually reach all the way to Suwon Station is scheduled to be completed by the end of 2013. You can read more details about the latest extension here.

Shinbundang Line Northern Extension gets Go-ahead
Yesterday, the northern extension of the Shinbundang Line (aka DX Line) from Gangnam to Yongsan was given the green light to proceed. The line will create another vital connection, linking two of the most frequented areas of Seoul via the high-speed automated system. The line will pass through the heart of Gangnam, continuing straight up to meet lines 9, 7, 3, the Jungang Line(중앙선) and finally Line 1.
The service will definitely be a competitive alternative to the widely used express buses, currently the fastest way to get to the area from Bundang. Once the 7.7km extension is operational, travel time by subway from Bundang to Yongsan is expected to be cut by approximately 27 minutes. The extension is not expected to be finished until 2018.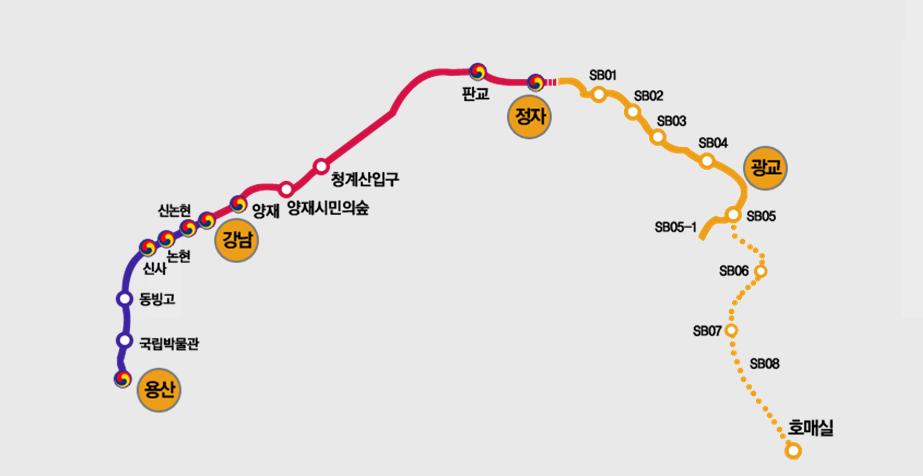 It has been two months since the Shinbundang Line was opened, transporting some 100,000 people per day. Nevertheless, the line is still being marketed heavily out of concern for citizens who might be unaware that it is up and running. Watch out for a more detailed post on the northern and southern extension plans for the Shinbundang Line early next year.
Happy New Year!