Though not a major project by any means, sometimes smaller projects are not without problems.
It is well known that Noryangjin Station which serves both Lines 1 and 9 (Metro 9), does not have an internal transfer connection between the two lines. This means that passengers which wish to transfer to Line 1 from Line 9 must go up two escalators and outside, walk a very short distance and then up one flight of stairs and down another. Though in actuality the length may not be so different from some of the longer transfer paths at other stations, with the stations parallel to each it might seem odd to some that there is not an easily accessible tunnel underground. For those with transport cards, transfers work the same as in any other station, however passengers without a transport card must purchase another one-use ticket, making the trip more expensive.
Originally a contract was signed to construct the tunnel in December 2008 but the construction and contract fell through in January 2010. Both Korail and Metro 9 had different explanations of what happened, but awaiting a decision on a new survey and design of the tunnel, the contract was cancelled. It wasn't until one year later that changing of the tunnel plans began. The new plans were completed in early April 2011 and construction finally recommenced later that month. The tunnel is being built constructed by Korail and is expected to take 28 months to complete, meaning that it will not be finished until 2013. The entire cost is expected to add up to 18.3 billion won.
The plans for the tunnel can be seen below.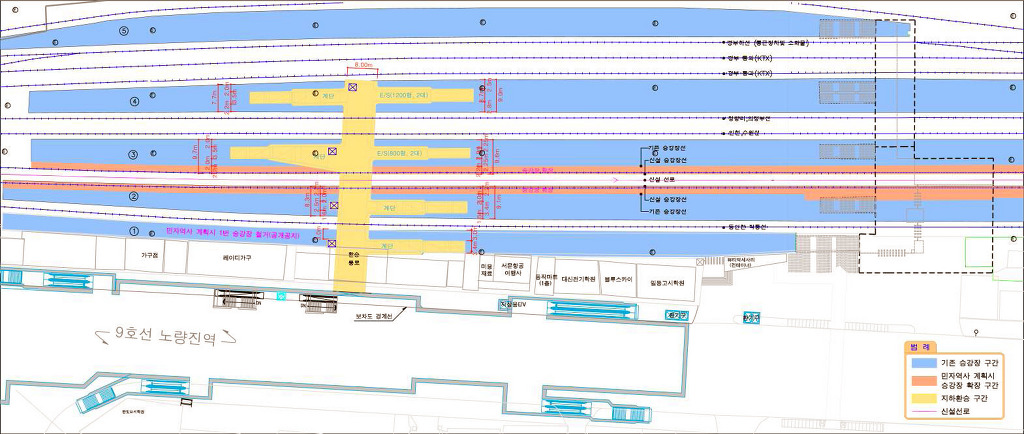 Sources: Ian Han | Prime News