The days are getting longer, the sun gains strength and it slowly gets warmer in Seoul. It's the perfect time to prepare your bicycle for the new cycling season. On that occasion, Seoul city government gives out free maps of the city's bike network from today, March 11th.
You can get the maps at the district offices (구청), Seoul Library, tourist information, bike rentals at the Han river and many other places. The map looks like this:
There's also a PDF-file of the bike infrastructure in Seoul available, but the design differs a little bit. I like the printed map more, because the map is very clean (less information) and you can orientate easier. If you compare both maps in detail, you'll see that a lot of changes happened. I don't know if the bike network developed. Or it could just be the result of reclassifications. Anyway, the map above seems also to be more up-to-date. Here's the available PDF map: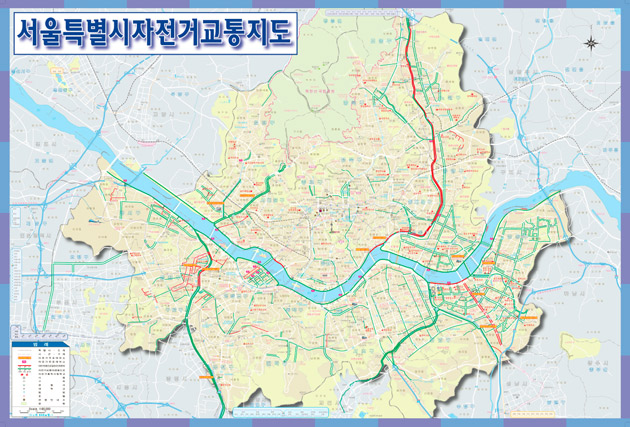 The maps are only in Korean, so let me explain shortly the meaning of the colors (according to the PDF, might differ for the printed version!): the red color stands for bike paths which are separated from cars and pedestrians, the green line are routes where the pedestrian and cyclists share the space with each other. So get out and grab your copy of the bike map!
Sources and Links: Seoul Traffic | Seoul Bike Map