Seoul is a very dynamic city and the built environment develops very fast. The changes can be through a new shop or restaurant, a new facade or even completely new buildings. Old buildings get torn down and replaced by new ones in a blink of an eye, at least it feels like that. With this post, I want to capture one place and share with you: The Joongang Cinema (중앙시네마) is a movie theater in Myeongdong, downtown Seoul.
Before you look at my pictures of the current situation, you may want to see how the Joongang Cinema looked like when it was still open.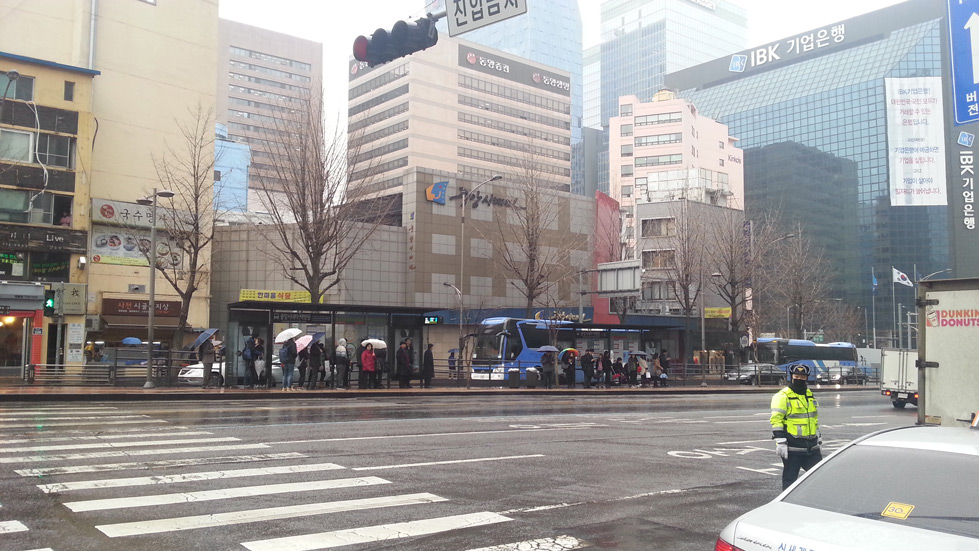 You can see the cinema in the center of the picture. It's surrounded by higher buildings  and construction places. It's very close to the Myeongdong cathedral and right in front of the cinema you've a BRT station. That makes it to a location with a good accessibility.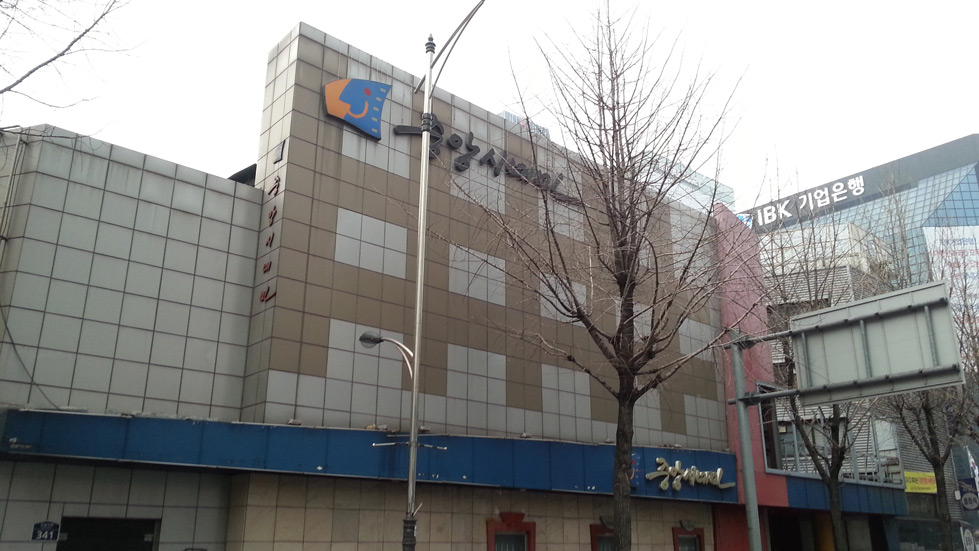 That's the facade of the building. It's not very spectacular in comparison to other cinemas in Korea.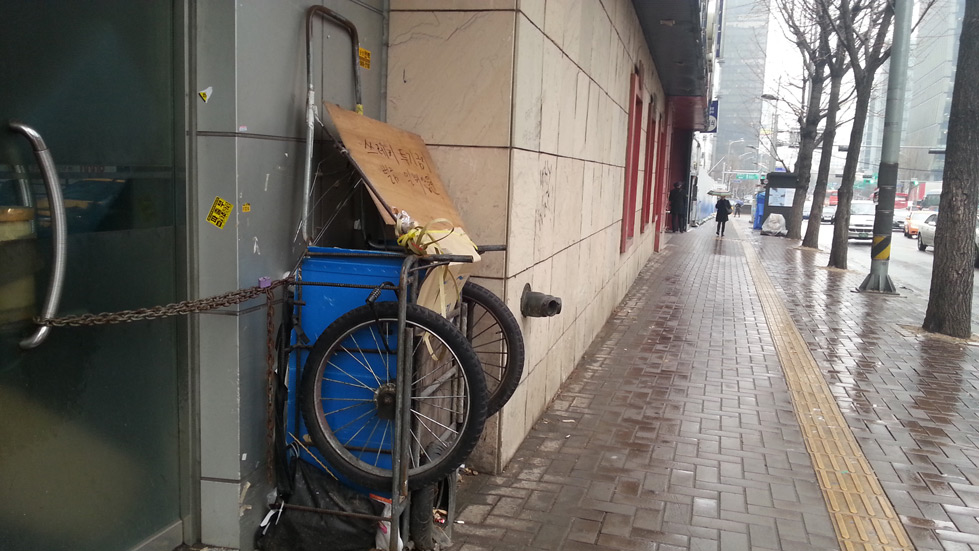 The sidewalk along the cinema. Someone uses the side-entrance to park his garbage trolley.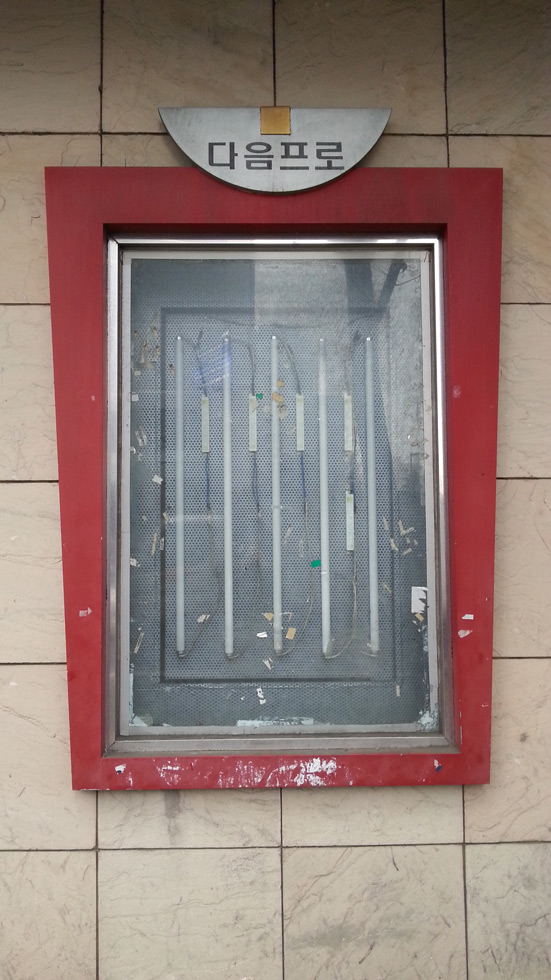 How many movie posters have been displayed there? And what was the last one? This reminds me of a cinema in my hometown. It closed down several years ago but they didn't remove the posters.
Someone wrote "I miss you, Joongang Cinema" with white chalk on the wall.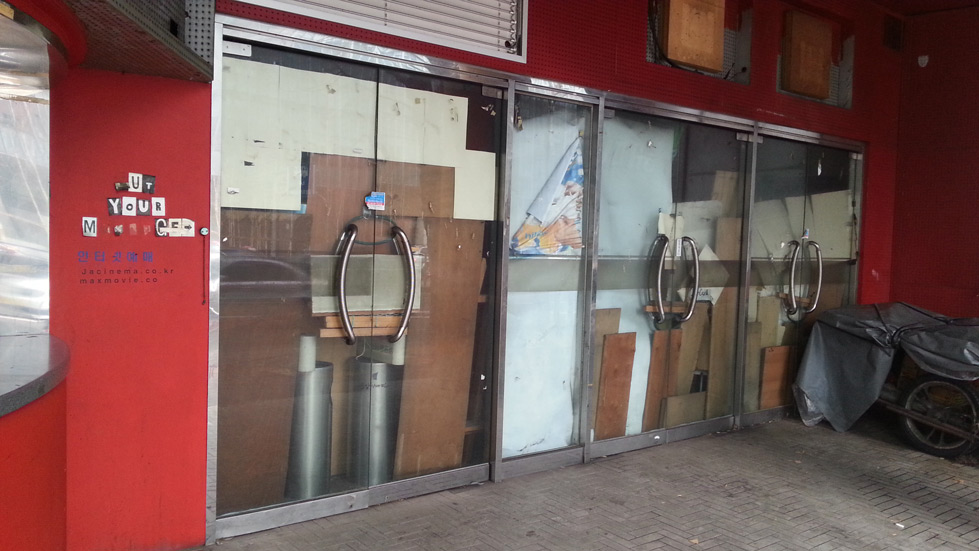 Here you can see the main entrance. The view into the building is blocked. There are no traces of vandalism or anything else. Scribbling are message to the cinema.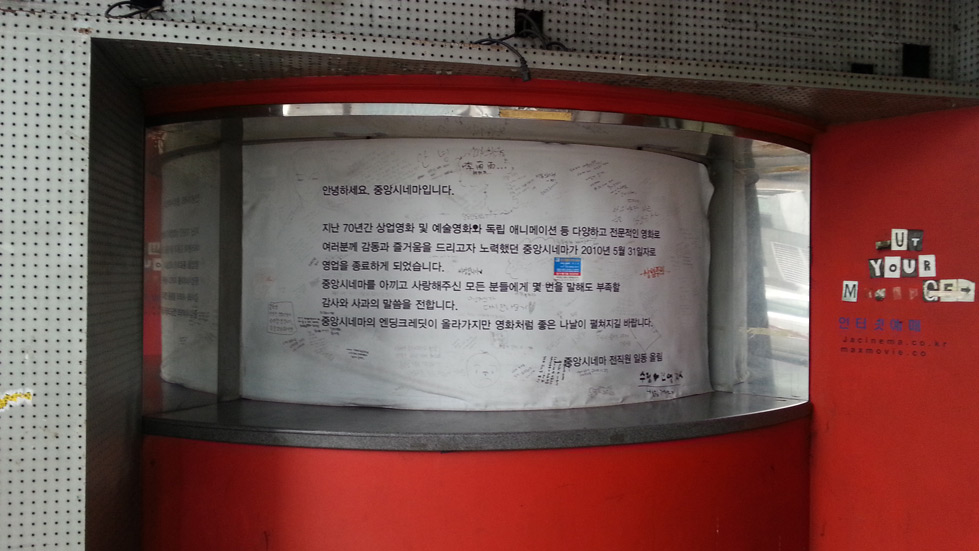 That's the former ticket booth and now it contains a farewell message to the visitors. In short, it says that after 70 years of showing movies, animations and many other professional movies, the cinema closed on May 31st, 2010. The theater apologies and says thanks to all customers at the same time. "This are the credits at the end of the movie but hopefully, everybody's life may develop well like in a movie."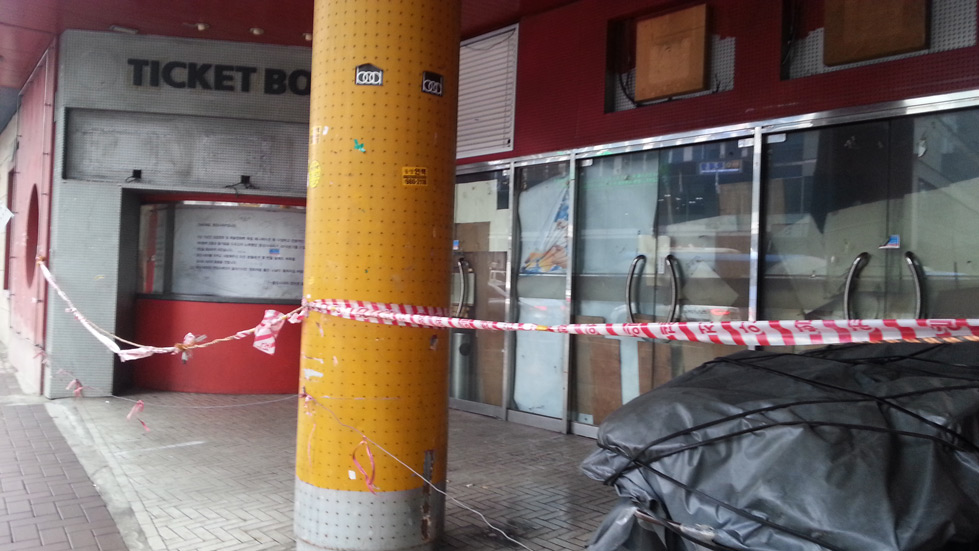 Here's another picture, showing the main entrance and the ticket booth.
This metal construction probably displayed large billboards about upcoming movies. I don't know about the future plans for the cinema and how long it's still going to stay like this. Probably, it will be torn down and replaced by a new, high skyscraper.
Conclusion
This post has no specific background and it don't have any personal connection to that place. It's just right in downtown Seoul and I use to pass by there because there's a delicious Ddeokbokki restaurant right next to it. I missed a lot of opportunities to take pictures of buildings in Seoul. Too often suddenly a construction site pops up and you wonder, what building was there before. Even though you pass by there every day, you can't recall it. The intention of this post is to raise awareness for your surrounding and the urban landscape you live in.