Back in April we wrote about the beginning of night buses on two routes. The trial was successful with over 220,000 passengers (2,100 people per night!) and so Seoul is going to begin operation of 7 new night lines from September 12. A survey among Seoulites also found out that 88% of the people support bus services throughout the night.
The night buses will also get a special branding: They are going to be called "Owl buses" and this is the concept behind it:

This map in Korean shows where the nine routes are going to operate: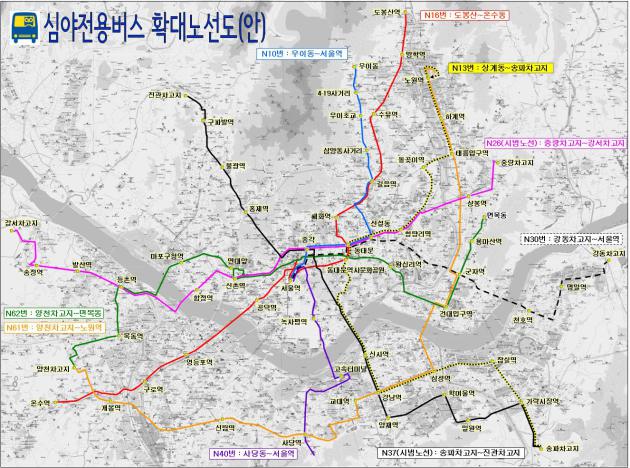 Overview of Seoul Night Bus Lines
The owl buses cover most areas of Seoul. They have similar long routes like the blue buses.
N26: Western Seoul Depot – Jungang Depot (강서차고지~중랑차고지) *already operating since April*
N37: Jingwan Depot – Songpa Depot (진관차고지~ 송파차고지) *already operating since April*
N13: Sanggye-dong – Songpachagoji (상계동~송파차고지)
N16: Dobongsan Depot – Onsu-dong (도봉산차고지~온수동)
N61: Yangcheon Depot – Nowon Station (양천차고지~노원역)
N62:  Yangchoen Depot – Myeonmok-dong (양천차고지~면목동)
N10: Ui-dong – Seoul Station (우이동~서울역)
N30: Gangdong Depot – Seoul Station (강동차고지~서울역)  
N40: Bangbae-dong – Seoul Station (방배동~서울역)
The night buses operate between midnight and five o'clock in the morning. The frequency of buses is very low (30 to 60 minutes between vehicles), so make sure that you don't miss the bus. This makes the service also less attractive for transfers to other night buses.
During the trial the fare price was only at 1,050 KRW but along the start of the other night lines from September 12 the fare will rise to 1,850 KRW. Of course, the bus drivers of the N-lines will have higher wages than their colleagues of the daily services. They aren't allowed to work during the day to prevent fatigue. The special features of the bus is that the drivers will be separated by a special partition. This should prevent drunk passengers to to attack or distract the driver. Enjoy the ride through Seoul's night!