Update – 30 August 2014: After a month the measure was revoked. The number of buses will be increased (200 vehicles will be added), as I stated in the blog post. It won't be illegal to allow standing passengers. The number of standing passengers decreased from 18% to 7%. The main reason for revoking the measure is that in September the new semester at university begins and the number of bus passengers will be higher than now. So, we are back to normal and it's allowed to stand in the red Kyeonggi-buses.
A huge change awaits the public transportation in the capital region of Korea: In order to improve convenience and safety of buses, standing passengers won't be allowed anymore on the majority of red buses. This measure was announced by the Ministry of Land, Infrastructure and Transport (MOLIT) in June and next week the measure will be implemented.
Some days ago I took a red bus to Seoul and there I was remembered about the ban of standing passengers: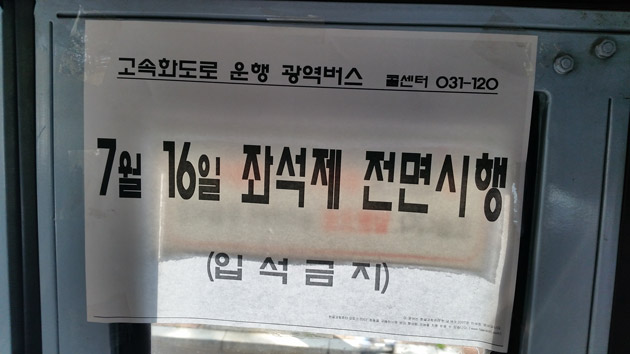 The sign says that from July 16th red buses which use the freeway will only allow as many passengers as seats are available. This is a measure of the red buses (also known as Gyeonggi-buses or in Korean "광역버스"). They operate between Seoul and the surrounding cities and they are managed by Gyeonggi Province but operated by a couple of private firms. So the majority of red buses are going to become somehow similar to the M-buses. I've wrote about them here.
To prevent a chaos more buses have to operate. The original plans of the government were to add 222 buses on 62 existing routes. A recent news article mentions 188 additional buses. In total, there are 155 red bus lines with 1,919 vehicles. Only the red buses, who use the freeway are affected by the measure. That is 83%, 129 bus lines and 1,586 vehicles. So the bus fleet will increase by around 11%. Also the interval between buses will become shorter. More buses will operate in a shorter distance of time. Further, there are plans to introduce double-decker buses next year and in the long term new metro lines (mostly LRT) will connect the capital region.
This measure is influenced by the Sewol ferry disaster. Korea now tries to improve their safety standards, especially in the transport sector. On April 23rd a bus company didn't allow standing bus passengers. Commuters were unable to get to work and they waited in long queues. The bus company quickly revoked the ban.
From my personal standpoint I'm a little bit worried. Yes, I'm one of the thousands standing bus passengers. Of course it is very dangerous if the bus is packed with people and drives along the freeway with a high speed. Standing passengers are more vulnerable for injuries in case of an accident. But I'm not sure if more buses operating in a shorter interval will be able to transport as many people as the red buses did until now. There will be more traffic in Seoul for sure.
Related Sources and Information: Korea WSJ on Double-Decker Buses | MOLIT | Huffington Post Korea