Update: The Jamsil transit center opened as planned in December 2016. We shared pictures of the new bus facility on Kojects' Facebook Page and made a short clip to show how the system works.
It seems like the constructions in Seoul's Songpa-gu are never going to end: The Lotte World Tower is still rising into the sky, the next extension of Line no. 9 is digging through the ground and Garak Market including the surrounding neighborhoods are under redevelopment. If you recently passed by Jamsil Junction, you have probably seen a huge road work in progress. Lotte Construction Group is building a bus transfer center between the old and new Lotte buildings. The most interesting characteristic about the project is that the bus transfer center is going to be completely underground.
Jamsil Transit Center
Since the beginning of the mall construction there have been plans to build an underground bus center but the construction didn't begin until after the opening of the Lotte Mall. I was really surprised about that because Seoul hesitated on approving a pre-opening of the mall and department store due to traffic concerns. Lotte introduced a strong limitation of parking spots and an online-reservation system for parking as countermeasures. But actually, better accessibility and more public transport facilities are a good way to solve traffic issues.
I couldn't find out the reason for the delay of construction. There haven't been any news about that project after the first introduction in 2013. It seems that Lotte put their priorities on their commercial buildings.
This is the concept plan:
The transit center is for the red buses (Gyeonggi buses), commuter buses and tourist buses. There will be 23 parking spots and 8 platforms for buses. The construction begun in May 2014. The first completion date is December 2016 (originally it was June 2015).
This is a picture of the current situation: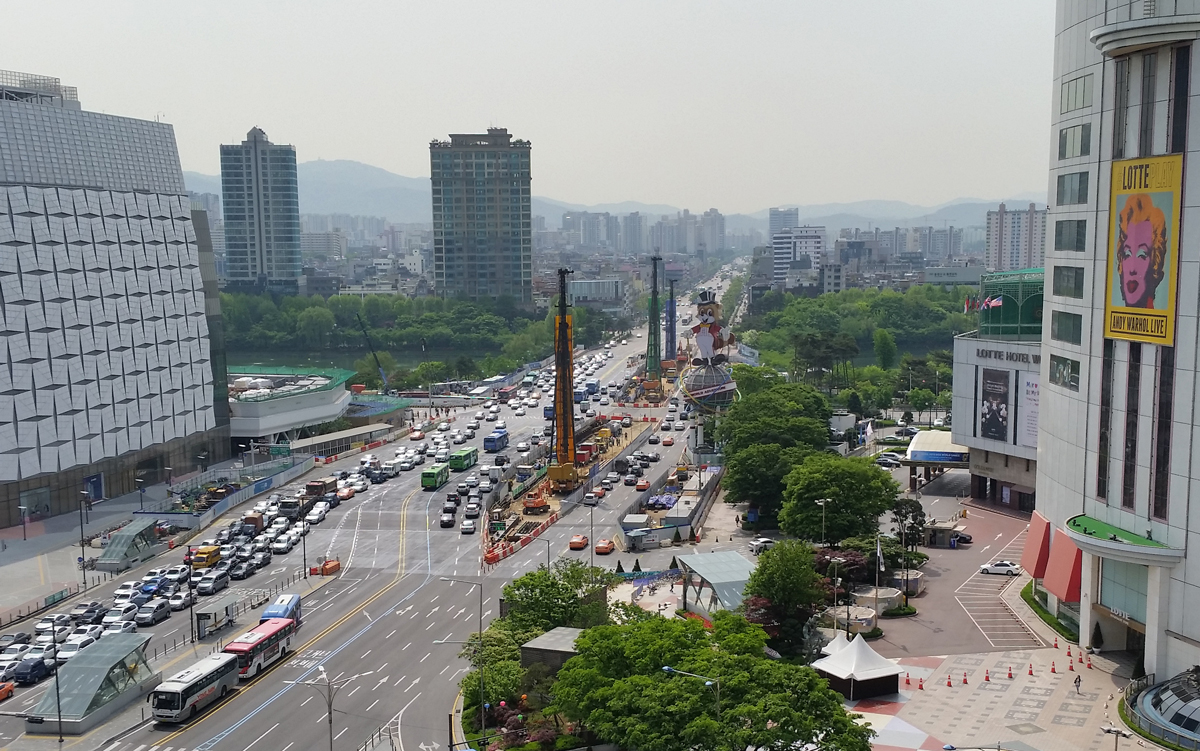 Transit Centers
We are going to see more transit centers at well-accessible, outer area of Seoul in the near future. The general policy direction is to minimize the amount of buses inside Seoul. Buses from outside Seoul are only going to serve such centers and passengers have to transfer to city buses or the subway. Even though the number of transfers is going to rise, it is going to have positive effects on travel time, too.
Sources and Information: Channel A | CIS Seoul | Yonhap News