In today's article we are going to explore Hong Kong's transport system. Similar to the article about Taipei's transport system, I want to introduce public transport of Hong Kong and compare it to Seoul. In the final section, I will introduce a few lessons for Seoul that can improve Korea's public transport service.
Hong Kong's Key Advantage: Density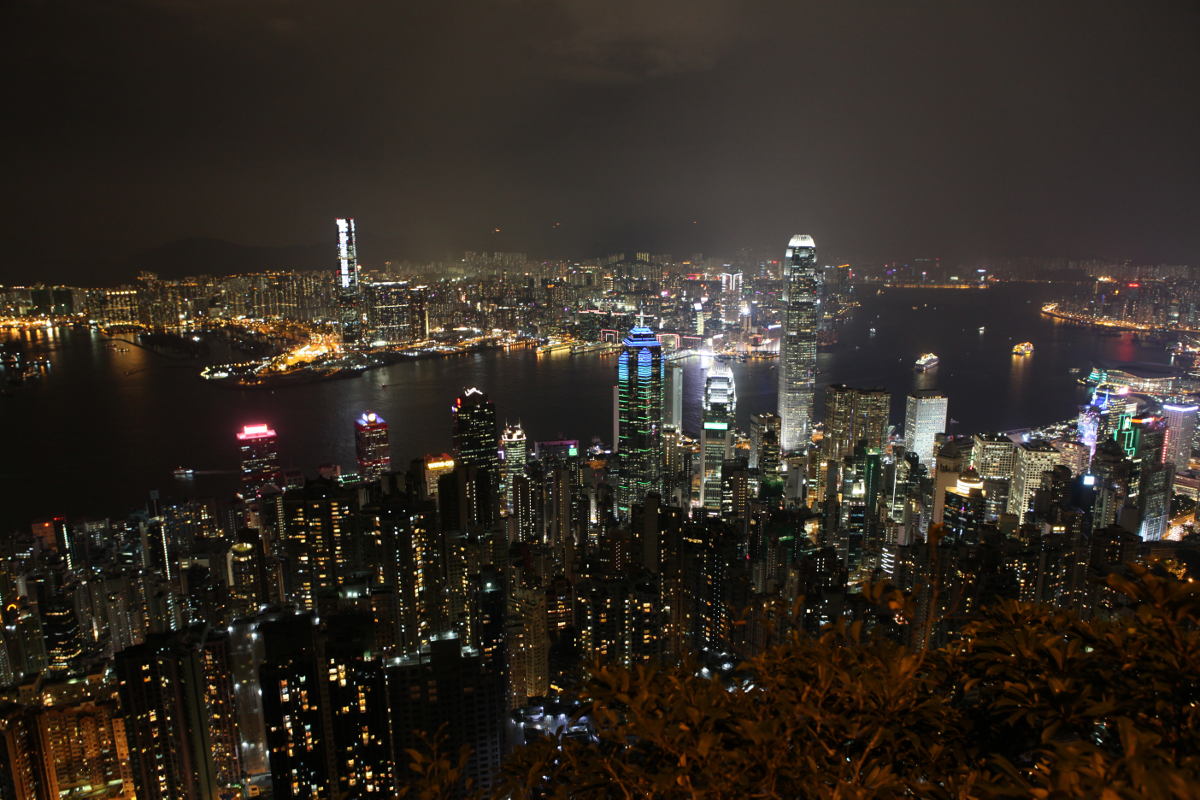 A key factor for public transport is the population density. A high urban density makes it easier to operate transit and provides transit service to many potential users. Hong Kong is a global city with over 7 million people on an extremely tiny strip of land. Most of Hong Kong's urban area is determined by its topography. That leads to a high population density of 22,193 people per sqkm in Hong Kong. In comparison, Seoul has 17,013 people per sqkm. However, it feels more compact in Hong Kong than in Seoul. See here densities of other urban densities.
Transport Card in Hong Kong
Similar to Korea's T-money card, Hong Kong offers an integrated transport card, namely the Octopus Card. It can be used for public transport as well as in stores.
The fare system is different between the two cities: In Seoul you pay a basic fare when entering public transport (bus or subway) and then an additional charge at the end of your trip exiting the station or bus. In Hong Kong the fare is deducted when leaving the station. Many of my subway trips were under 10 HKD (which is 1,500 KRW). Elderly and people with disabilities only pay 2 HKD per journey within the city. In Seoul, subway is completely free for elderly.
Hong Kong Mass Transit Railway (MTR)
Before traveling to Hong Kong, I had heard many positive things about the city and especially about the metro system. Hong Kong's subway system opened in 1979 and it grew to a system with 9 main commuter lines and several light-rail lines to a size of 218km. That makes it to a manageable system for visitors. The MTR network looks as follow:
In Hong Kong I mainly used the Tsuen Wan Line (red line) and the Island Line (blue line). Just once I rode on the Tung Chung Line (orange) and the Kwun Tong Line (green line). Orienting on the MTR network is as easy as in Seoul. An advantage over Seoul is that above every door in the train cars is a display indicating the current station and direction of the train. Seoul's subway system has far more lines and one of the world's largest subway networks. Showing a large map of the network above every door isn't necessary in many cases as it may be confusing or overwhelming for visitors to deal with the large, complex subway network.
Here's a picture of the trains on the Tung Chung Line: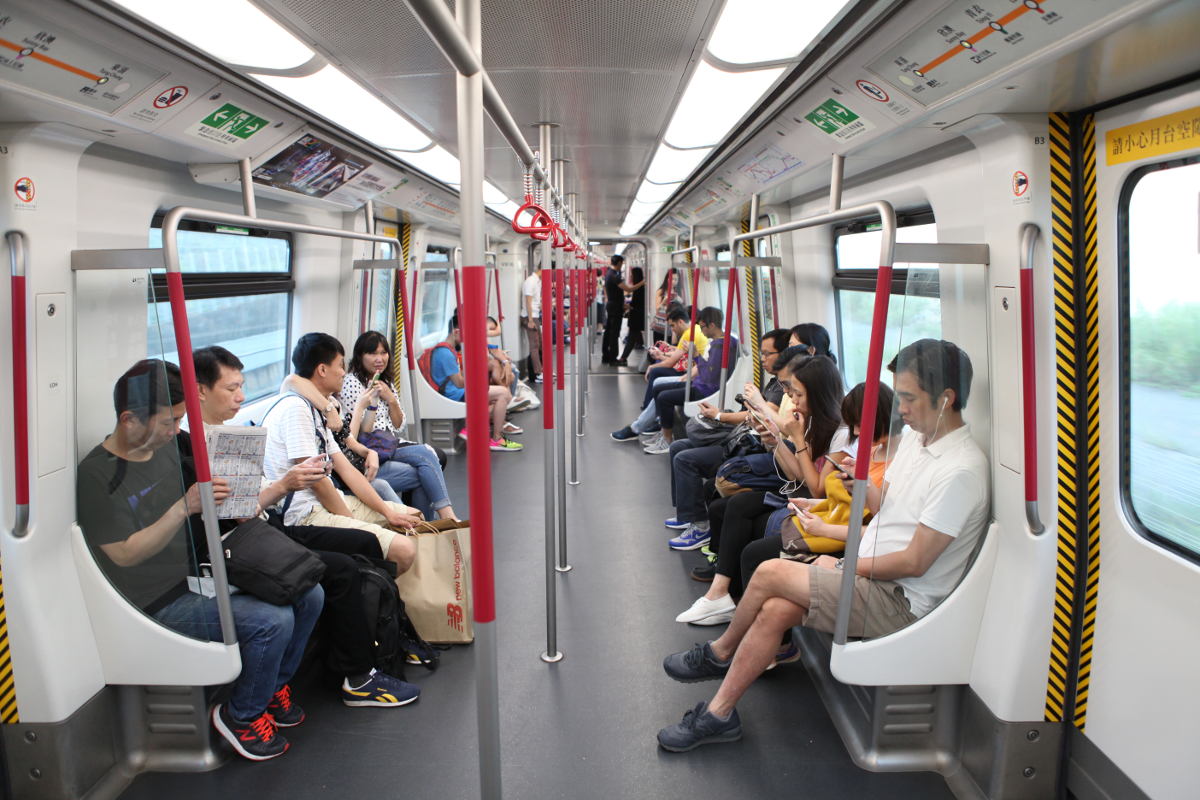 Subway trains are spacious and offer more comfort for standing passengers. Under full capacity with many standing passengers, it's still possible to hold a handle or a bar. Of course, it gets really crowded but as the majority of my journeys was just a few stations long, it wasn't as bad as in Seoul where you end up standing for an half hour. Hong Kong's MTR stations are equipped with safety doors: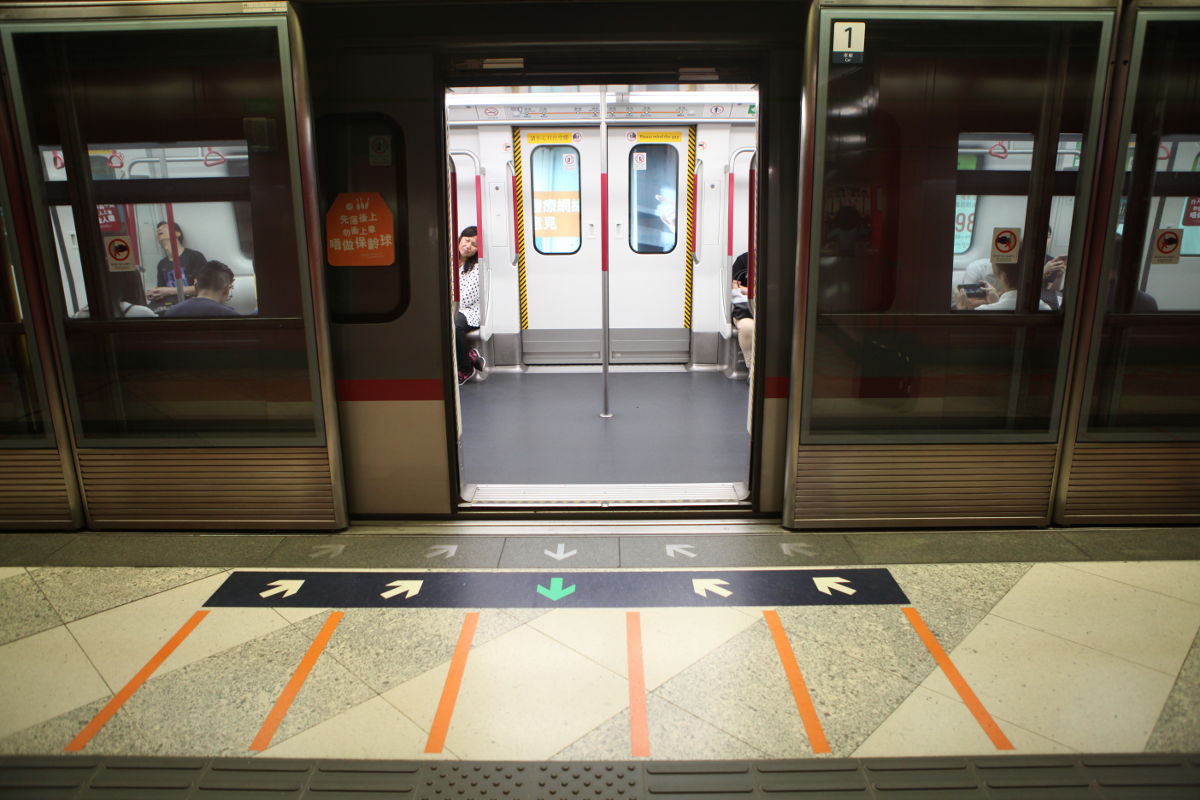 The earliest safety doors were installed in 1998, a decade before Seoul begun to install them.
Hong Kong's MTR is one of few subway corporations in the world that makes profit. Land value capture mechanism is the key mechanism. To be very brief, Hong Kong's MTR is more than a transit company, they are property developers and retail managers.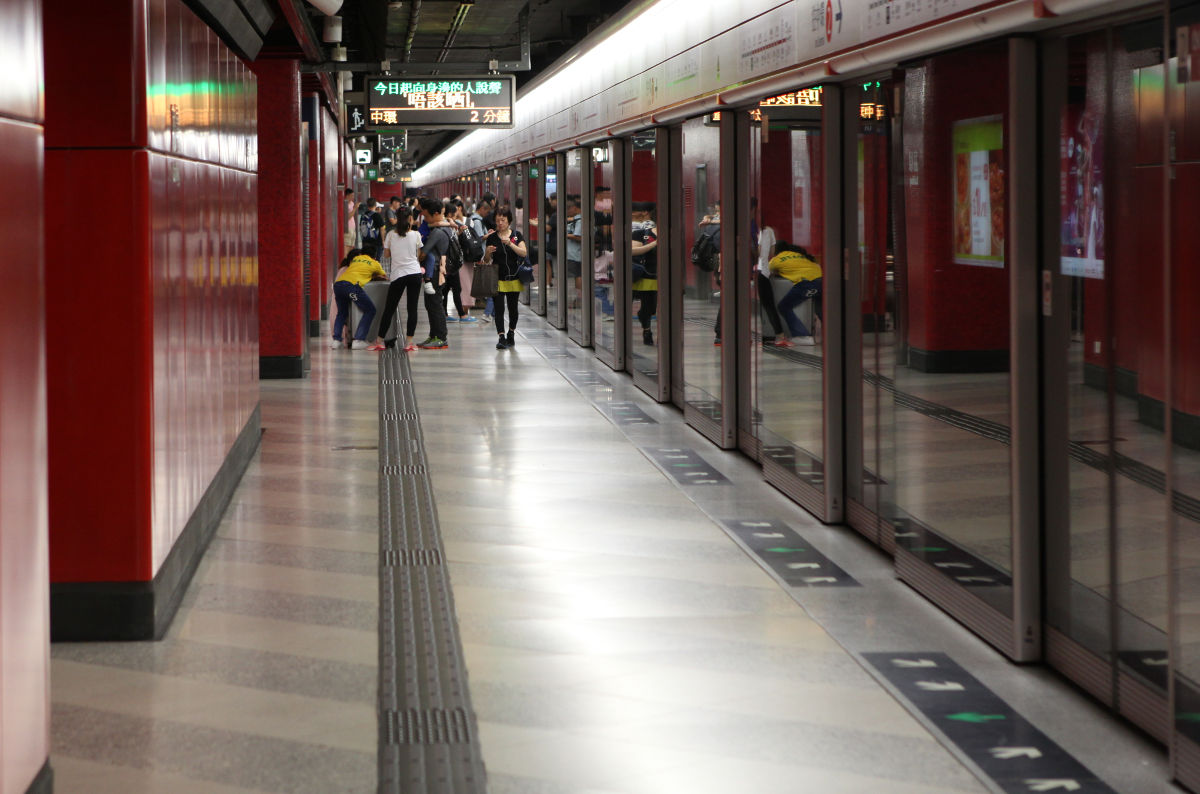 The best feature of the subway system is that the transfer between lines is easy. The other line into the direction where the majority of passengers wants to go is directly on the opposite site of the platform. There's no need to take stairs or escalators. The reason for that great transfer system is that the whole system was planned together. It incorporates lessons from London's tube, the oldest subway system in the world. Knowing that you are going to have five lines in the future, allows for more comprehensive, integrated design elements. Seoul's urban planner didn't foresee such a huge, complex system and when the time came that multiple lines were planned together, people and planners were already used to transfer tunnels.
To find out the routes and exact fares for your trips, I recommend the interactive trip planner by MTR. There are also apps for your phone that can be very helpful.
Bus System in Hong Kong
The double-decker buses in Hong Kong are a great experience. The buses are new and clean. To find the fastest bus routes, I used Google Maps and Citymapper. Bus trips again confirmed that Hong Kong is a city of short distances.
Bus shelters don't exist in Hong Kong. The narrow sidewalks wouldn't allow a bus shelter or even a bench for people waiting for the bus: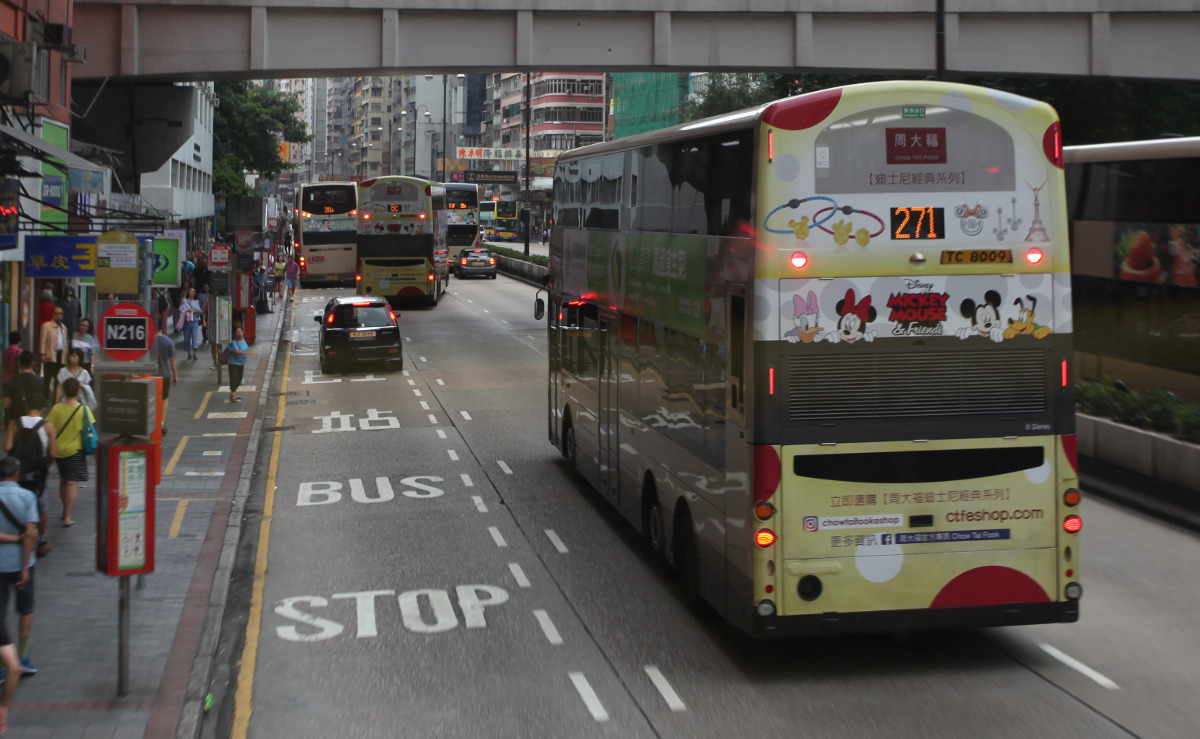 Here Seoul is clearly better positioned. Seoul has general guidelines for bus stop design. Another great advantage of Seoul is that it has bus-only lanes in center of the street. I didn't encounter any bus-only lanes in Hong Kong during my stay.
Tram
What can be better than a double-decker bus? Of course a double-decker tram! Hong Kong is the only place in the world that has two-level trams. They were introduced in 1904 and are still operating. Trams can be only found on Hong Kong Island. The stations are very narrow but better than the non-existing bus shelters.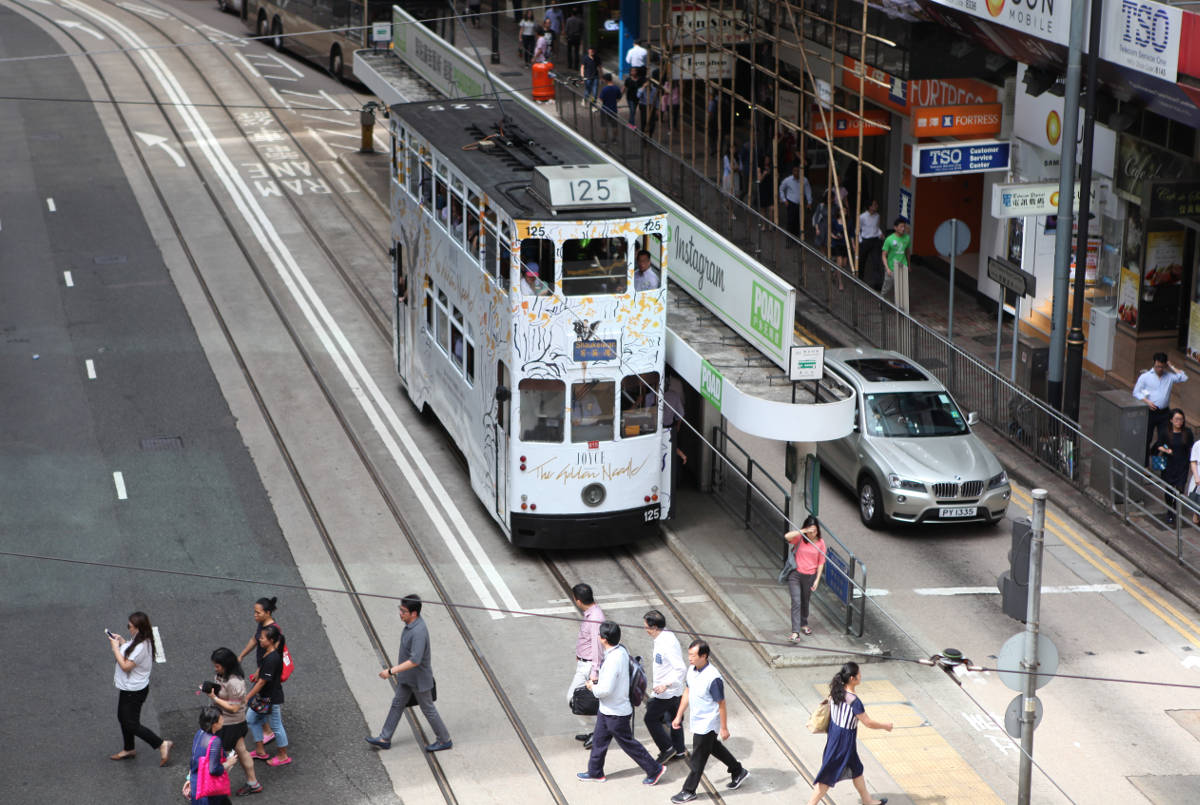 Riding the trams is a great experience. I totally recommend it to anyone visiting Hong Kong. The trains really seem to be 100 years old but they are driving smoothly through the city.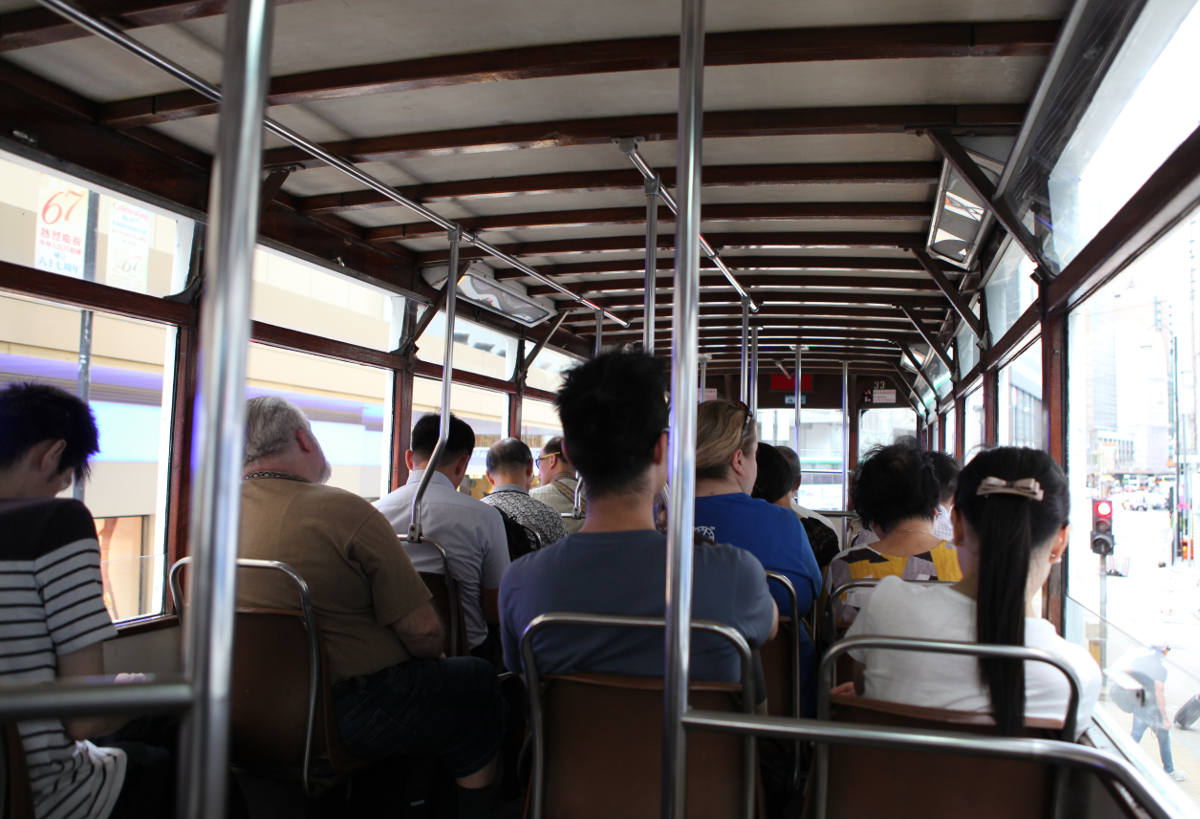 My only issue was that I expected it to be more complicated. I searched for different lines going to different destinations. However, 90% of trams have the same starting and end point. Tram stations have a sign on them that helps to identify the current location. Once I misread the sign and got off at the wrong stop.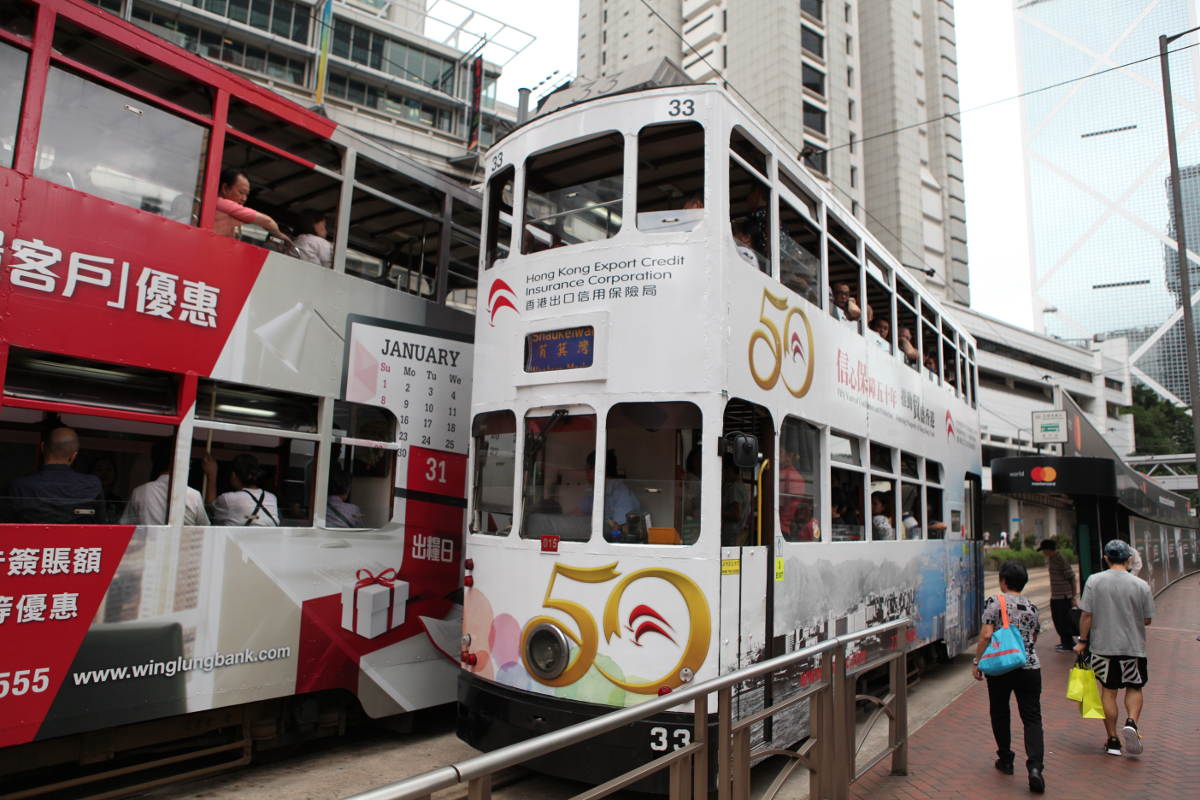 Having such trams makes even a large city like Hon Kong feel more human-sized and most importantly, it decreases the amount of cars.
Other modes
Taxis are striving the roads of Hong Kong. They are an essential part of transport in Hong Kong. The basic fare for the first two kilometers is 22 HKD, followed by 1.60 HKD (or 1 HKD over 78 HKD total fare) for every 200 meters or 1 minute waiting time in traffic. As of August 2016, there are in total 18,138 taxis in Hong Kong. 15,250 vehicles are red urban taxis, followed by 2,838 green New Territories taxis and 50 blue Lantau taxis.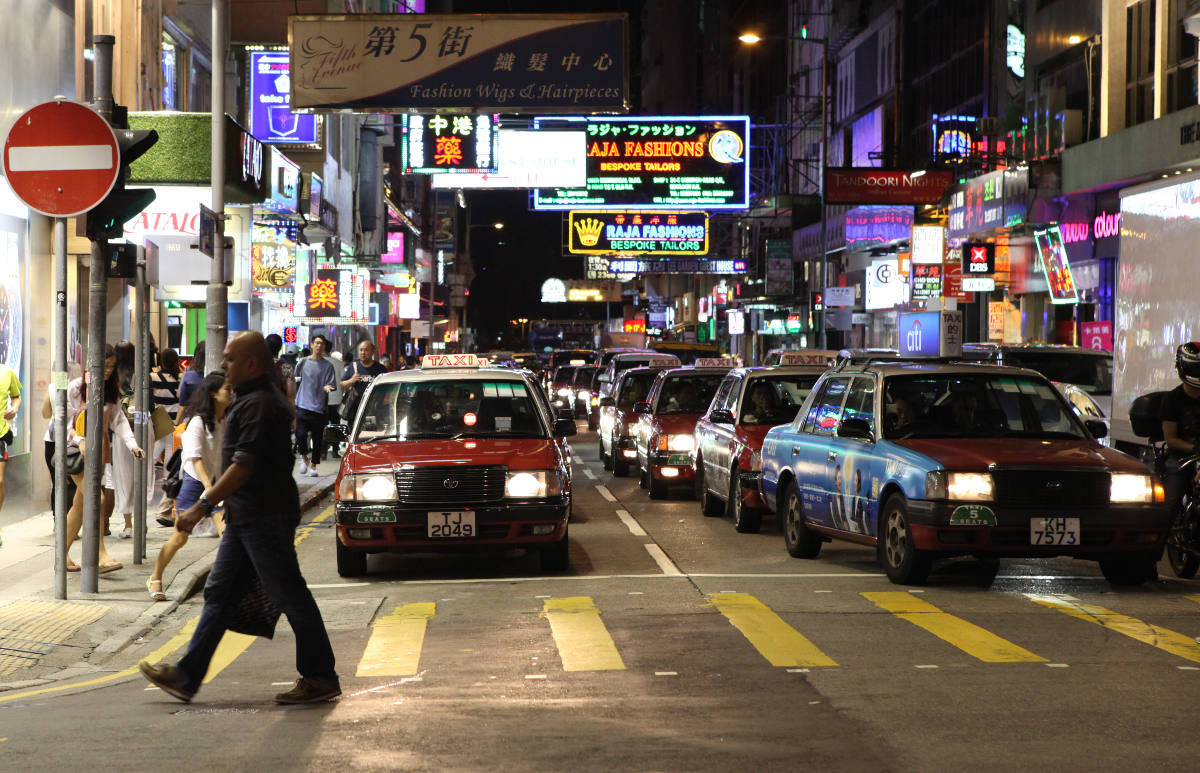 Personally, I didn't use any taxis during my stay and can't say anything about the quality of Hong Kong's taxi service.
Hong Kong's transport system accomodates electric vehicles as well. I was surprised seeing so many Teslas in Hong Kong. I heard that Hong Kong has the highest density of Tesla vehicles in the world.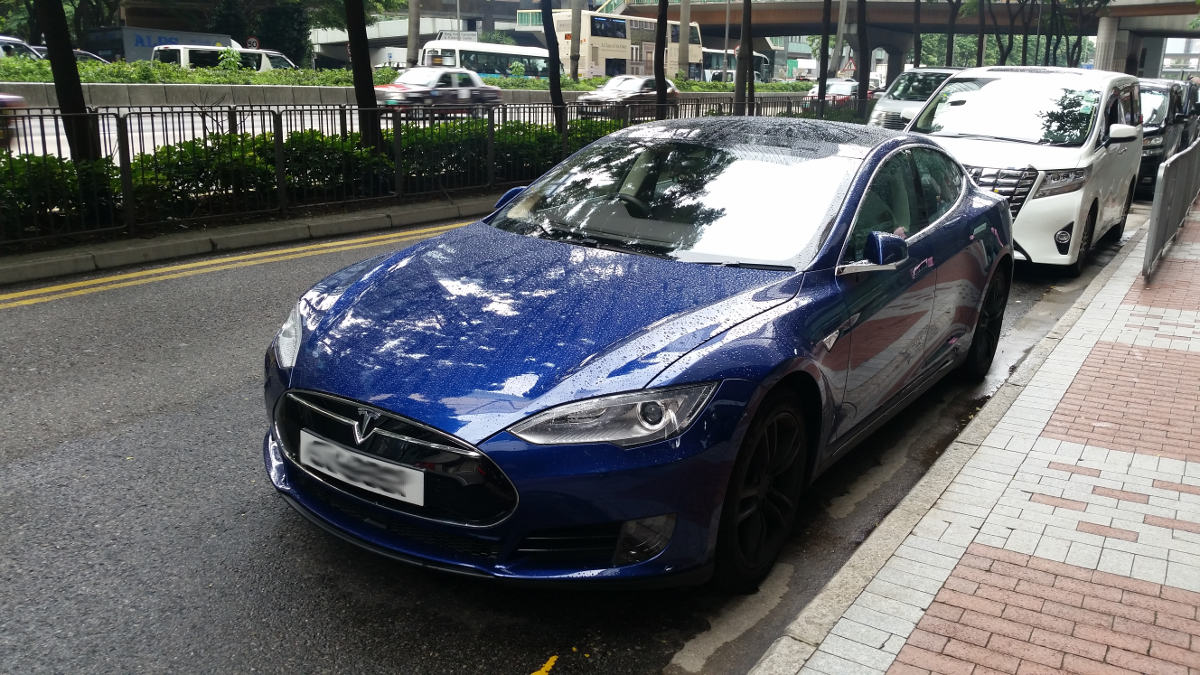 Tesla is coming to Korea in 2017 and preparations for Tesla are already shaking up Korea's electric car market.
And then, the probably most underrated mode of transport are outdoor escalators in Hong Kong: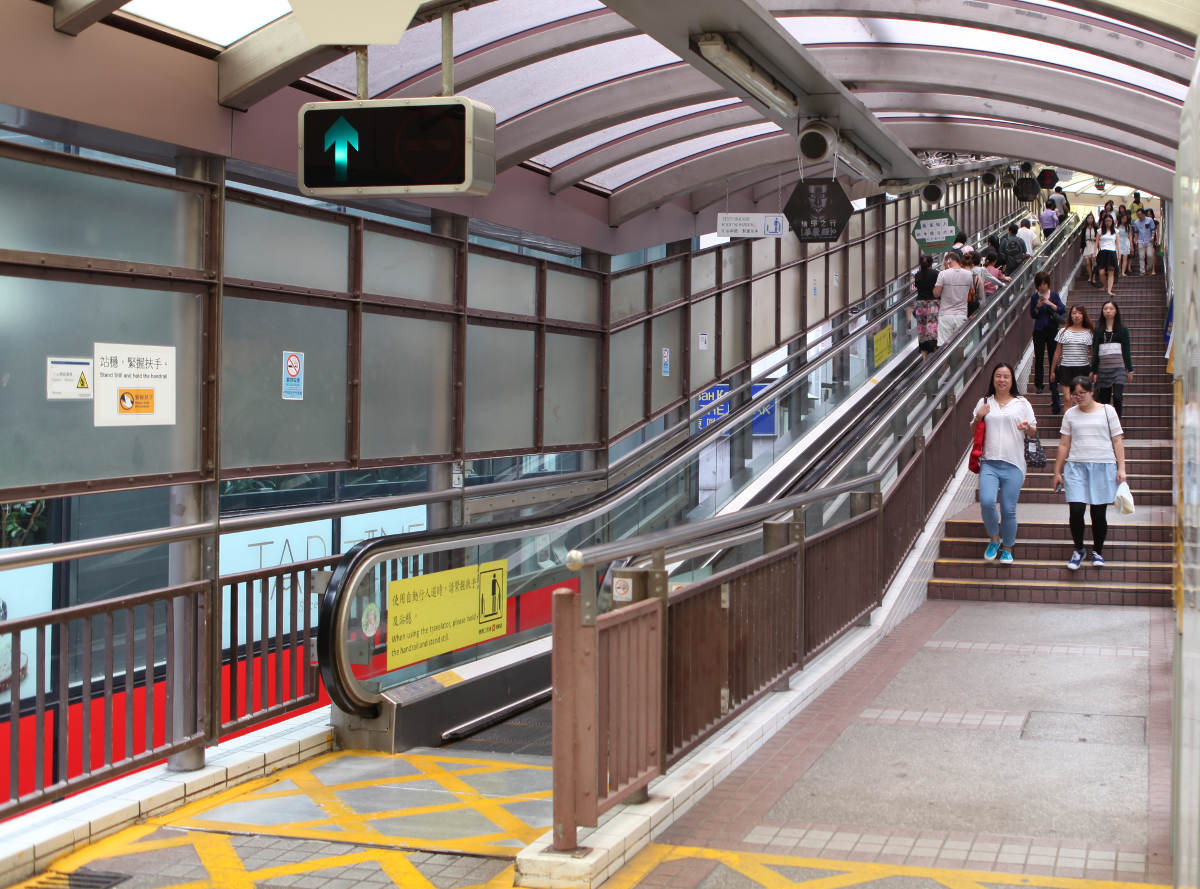 There are an essential part of Hong Kong's transport system on Hong Kong Island. The Central-Mid-Level Escalators are the world's longest outdoor escalators and they got famous through movies such as Chungking Express. For areas with steep hills and narrow alleys, they are a great support and I would even describe them as a "light public transport mode".
Better than Seoul?
I emphasize often on Kojects that Seoul has a great public transport system. The subway system is efficient and convenient. Seoul's buses help you to reach all your destinations. The same can be said from Hong Kong's transport system. Public transport is great and it enables a car-free lifestyle in both cities.
The unbeatable advantage of Hong Kong are the short distances. Thanks to the high density most of the trips take less than 30 minutes. The destination is just a few subway stops away.
What can Seoul learn from Hong Kong's transport system?
The transfer system of Hong Kong is unbeatable. In Seoul, distance between two lines can be as long as 350 meters. Add a lot of stairs or escalator rides and you get a very inconvenient, exhausting transfer experience. Sadly, it's nearly impossible to upgrade Seoul's subway system to have such an easy transfer on the same platform. It would mean that the whole subway system has to be rebuilt. Many lines also don't have a large crowd of people going to the same direction.
Actually, there's one station that has a direct transfer on the same platform: Gimpo Station transferring from Seoul Subway Line 9 to the Airport Express A'REX. There's also the potential to have such a feature in new lines and at their transfer stations (as long as both lines are new).
But what Seoul really can learn from Hong Kong's transport system is that trams are a part of a global city's public transit. Hong Kong invested over 100 years ago in tram tracks and trams are still operating. Seoul's trams disappeared in 1968. Trams offer a unique feeling of cities and it reduces the amount of short trips with taxis or cars.