Since the Gyeongui line opened in July 2009, residents of Ilsan and Paju have had better direct access to Seoul's metro system. From December 15 an extension from DMC Station to Gongdeok Station will open, providing direct transfers to lines 2, 5, 6 and the Airport Railroad. The 4 new stations are Gajwa (가좌), Hongdae Univ. (홍대입구), Seogang (서강) and Gongdeok (공덕).
Currently operating services from DMC Station to Munsan Station – located just a few kilometers south of the border with North Korea, the revamp of the Gyeongui line replaced commuter trains which were slow and not integrated with public transport. The line also offers a service directly to Seoul Station once every hour. Gongdeok Station will become a major transport hub as the second station in Seoul with four transferable metro lines following Wangshimni Station after the Bundang extension opened earlier this month.
While original plans for the extension saw the line terminating at Yongsan Station, due to problems with purchasing land and compensation for current residents, construction on the section from Gongdeok to Yongsan was delayed and in September 2011, KORAIL decided to open the DMC to Gongdeok section first.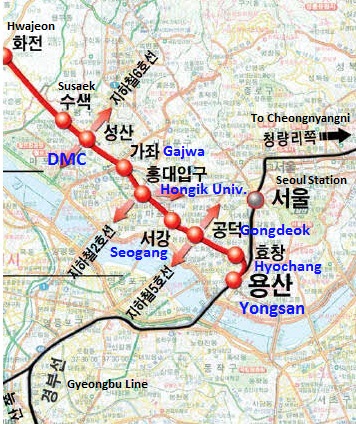 Despite the remaining section from (Gongdeok – Hyochang – Yongsan) being very short, it is not expected to be finished until sometime in 2014 where it is planned to make a direct connection with the Jungang Line. Once these two lines are connected it will mean that those living in Paju and Ilsan will be able travel directly to inner Seoul destinations and major transfer points such as Wangshimni, which connects with the Gangnam area via the new Bundang Line extension.
Sources and Links: FRDB | Ian Han | Accident during construction (1 death, 9 injured)