Korea is a great country for leisure cycling. This can be experienced first hand at the major rivers and on Jeju-do, the largest island of South Korea. I'd been cycling Jeju-do along the shore for a week. The island is very special in many aspects. Here I want to take a closer look at the bike infrastructure because  Jeju-do offers certain types of bike lanes.
Update: A slightly edited version of this blog post was published in The Jeju Weekly.
Update 2: If you plan to cycle around Jeju-do, then I recommend you to buy the guidebook about Jeju-do by Korean Rooftop and additionally, watch their documentary on cycling on Jeju-do.
This was my route (each color represents a different day):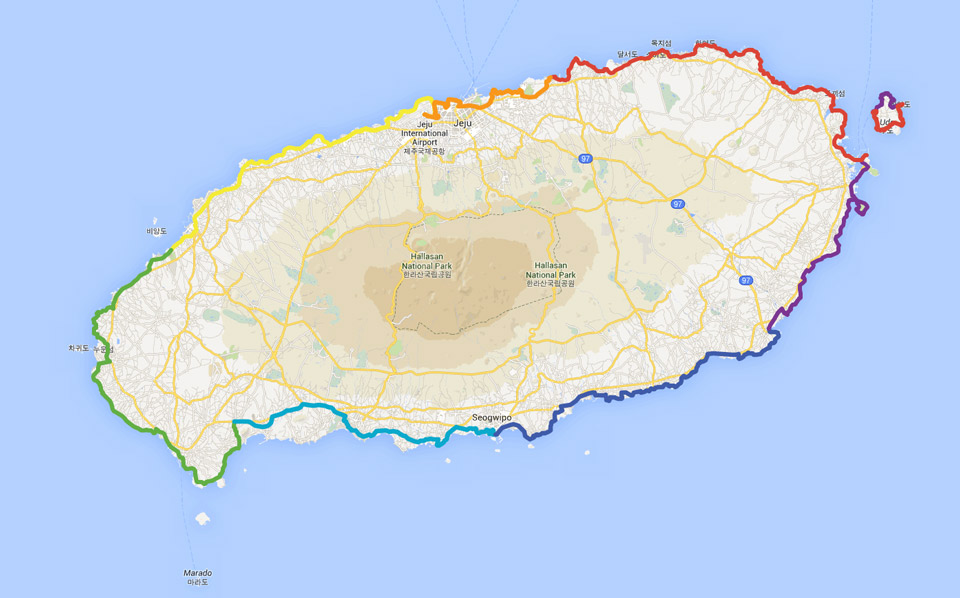 Please click here for an interactive Google Map! As usual for cycling Jeju-do, the route was anti-clockwise. I recorded the trip with Strava and at the end it said that I cycled 283 km.
Highway 1132
Around the whole island leads the highway no. 1132 and on both sides of the highway are bike paths. The bike lane along the road no. 1132 looks like this: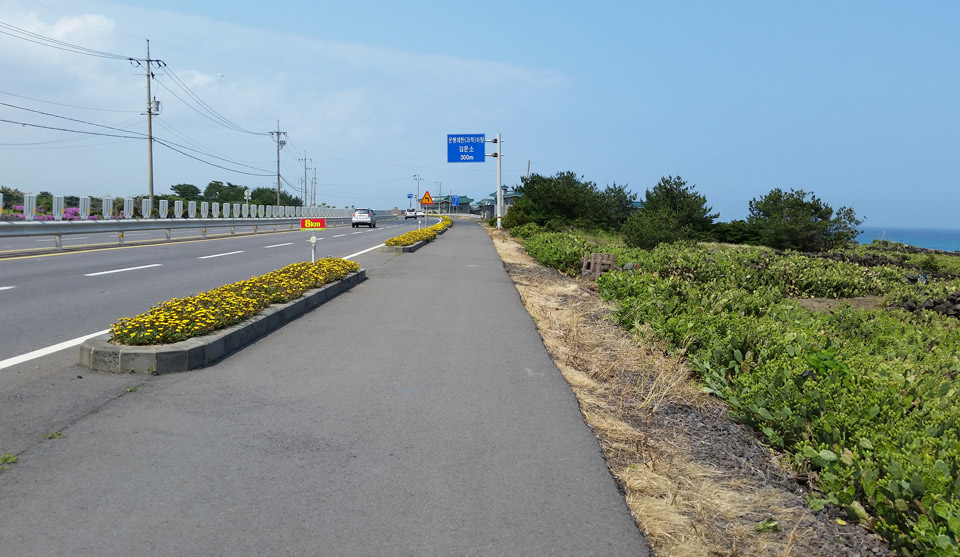 It's wide and even, perfect for fast rides but the view is also worse than on the shore road. The highway no. 1132 always keeps a certain distance to the coast. Cars are passing by with a speed of 60 to 100 km/h which feels very uncomfortable and noisy on a bicycle.
Bike Lanes Along Coastal Roads
I've almost always tried to stay as close as possible to the coast. The easiest way was to follow traffic signs saying "해안도로" (Shore Road).  Regularly I checked with Daum Maps but it isn't really necessary. As long as you follow the rule to keep the ocean always on your right side you won't get lost.
A disadvantage of this road is that often cars (mainly rental cars from tourists) are parked on the bike path. Thus, sometimes I had to lower my speed and find a way around the obstacles. However, it was just a small problem. More often I stopped because the view was unbelievable beautiful. Jeju-do has really something to offer every one hundred meters or less!
The majority of coastal roads has also a physical separation. Hereby the funny thing is that the gap between the blocks is very small and only every few hundred meters is an opportunity to easily enter the bike lane. And what's then parked there? A car!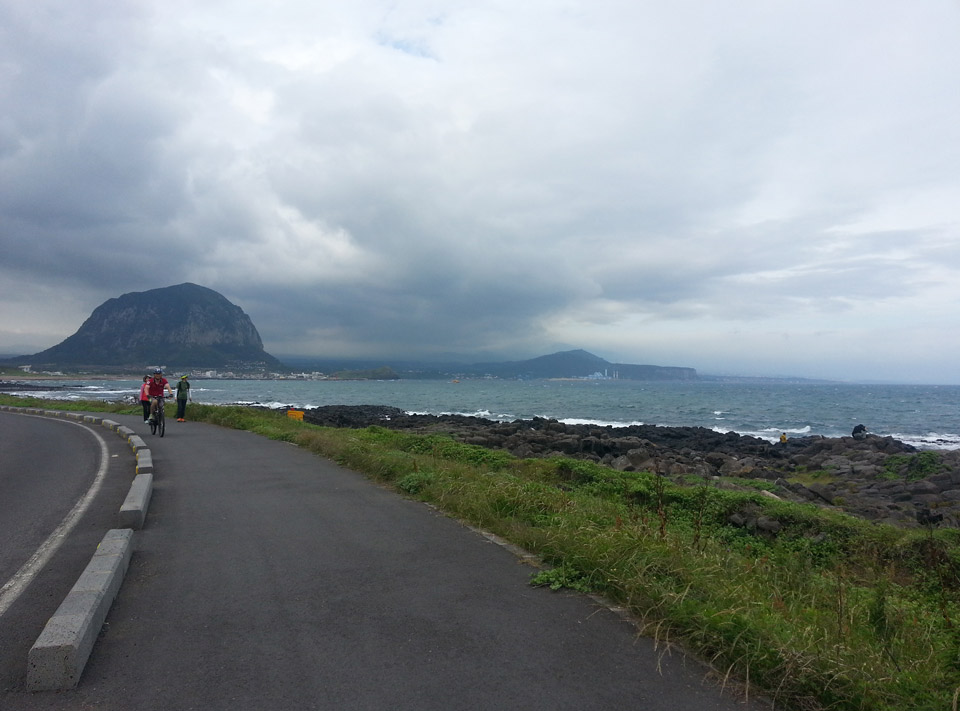 Other major local roads have a bike lane without physical barriers as you can see here: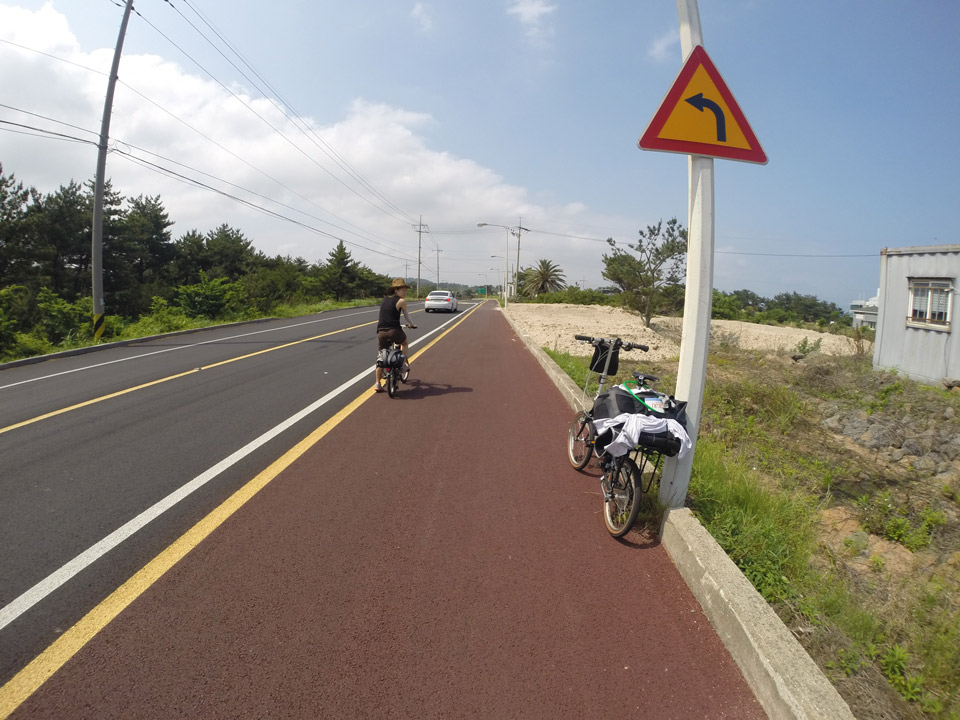 Sometimes the lanes become very narrow and they are only for pedestrians and cyclists. Locals use them with their cars but the amount of traffic is very low: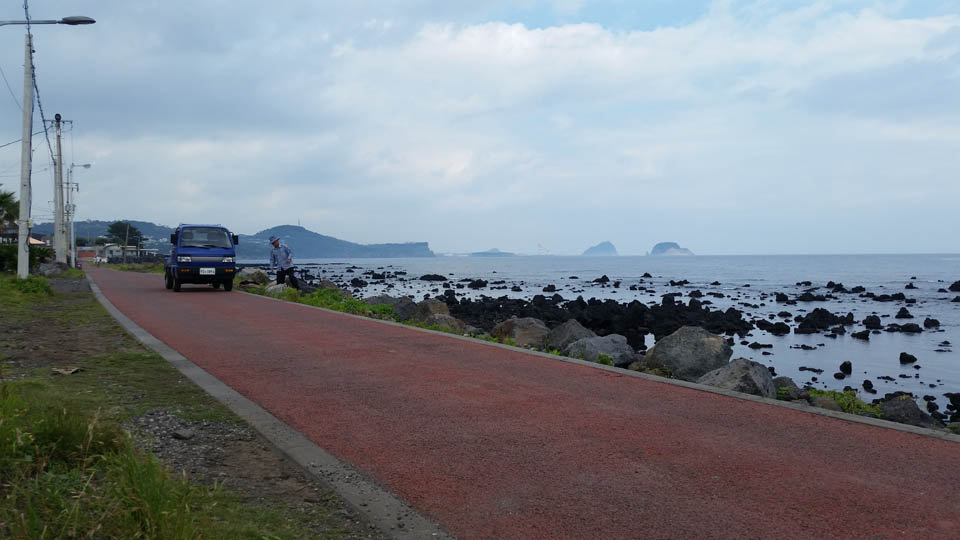 Roads Without Bike Lanes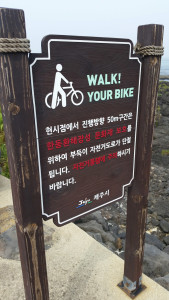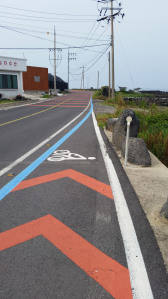 Jeju-do Province acknowledges that people come to Jeju-do to cycle, even though it is probably a very small share of tourists. Once I've experienced that the bike path disappeared for fifty meters and a sign said "Walk Your Bike". Underneath it explained that the bike lane is discontinued and cyclist are advised to get of their bike out of safety reason. At the end of the small disruption in the network, another sign wishes you a nice vacation and promises to expand the bike network. Even though it is somehow exaggerated, it is a nice recognition of cyclists. I've never really felt in danger on my bicycle in areas without bicycle lanes. Actually I expected tourist buses or thousands of rental cars but none of them really drove along the coastal roads or at least not a very high amount of cars. So I could enjoy the ride to the fullest.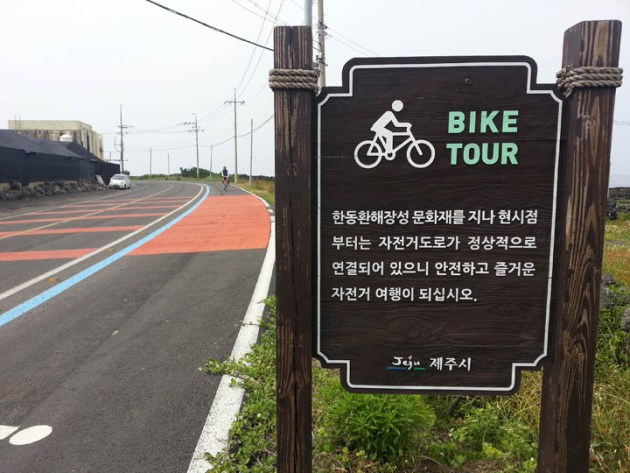 Farmers use the shoulder of roads (usually marked bike paths) for drying their farm products. When I was there, it was the season for garlic: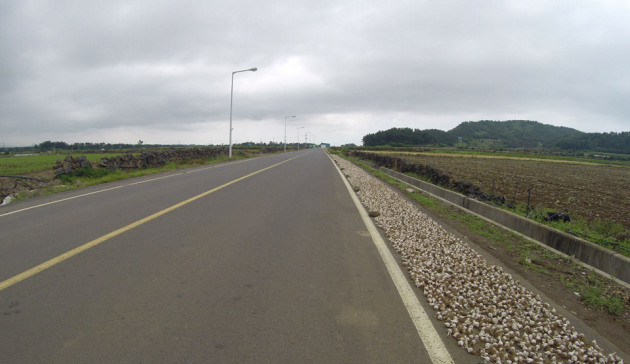 That's probably the most charismatic point of cycling Jeju-do.
Future of Cycling Jeju-Do?
This is the status quo. In the near future (probably at the end of 2015 or beginning of 2016) Jeju-do will be added to the national bicycle network and stamps can be collected along the course (which may differ from the route I took). After collecting stamps , it will be recognized as a "grand slam" (more information in Korean here). The bike path network on Jeju-do is already so well developed that the improvements only require a construction of 68 km bike lanes.
It was my third time on Jeju-do. The first time I had a rental car and the second time I used public transport. I think that using the bicycle was the best way to discover Korea's greatest nature.
Sources and Related Information: The Jeju Weekly | IBike