Last year, Korea saw a record-number of screen door-related fatalities. Incidents at Guui Station and Gimpo Airport Station started a public debate about screen doors and their safety. A new government report suggests the introduction of vertical screen doors as they promise to have advantages over the current system.
In the last four years there were 7 deadly accidents involving platform screen doors (2013: 1, 2014: 2, 2015: 1, and 2016: 3). The Ministry of Land, Infrastructure and Transport (MOLIT) also emphasizes that platform screen doors are often defect. There were a total of 74,238 cases of malfunction (2013: 19,163, 2014: 21,892, 2015: 23,975, and May 2016: 9,208). That's an average of around 22,000 cases per year.
An alternative to the current screen doors are vertical screen doors: Instead of opening side-wards, vertical screen doors open up-wards. The vertical platform screen door system works as follows:
As you could see in the video, the Korea Transport Institute has done extensive research on vertical screen doors. The R&D project went from 2011 to this year.
A similar system of vertical screen doors is already in use: The Korean company SKD-Hightech (SKD하이테크) developed a system that utilizes steel ropes as barrier. They call the system "Rope Screen Door". According to SKD-Hightech, the rope screen doors cost half of conventional platform screen doors and have less malfunctions.
The first station in Korea with vertical rope screen doors was Nokdong Station on Gwangju's Line 1. The vertical screen doors were installed there in 2006. But they have been replaced with conventional platform screen doors. Munyang Station on Daegu's subway line 2 uses vertical screen doors (also steel ropes) since 2013. The system by SKD-Hightech has been exported to Japan and Sweden.
The system by the Korea Transport Institute uses glass doors that are going to be a lot heavier and more expensive than rope-based vertical screen doors, I suppose. I came across the vertical screen door system at an exhibition in 2015: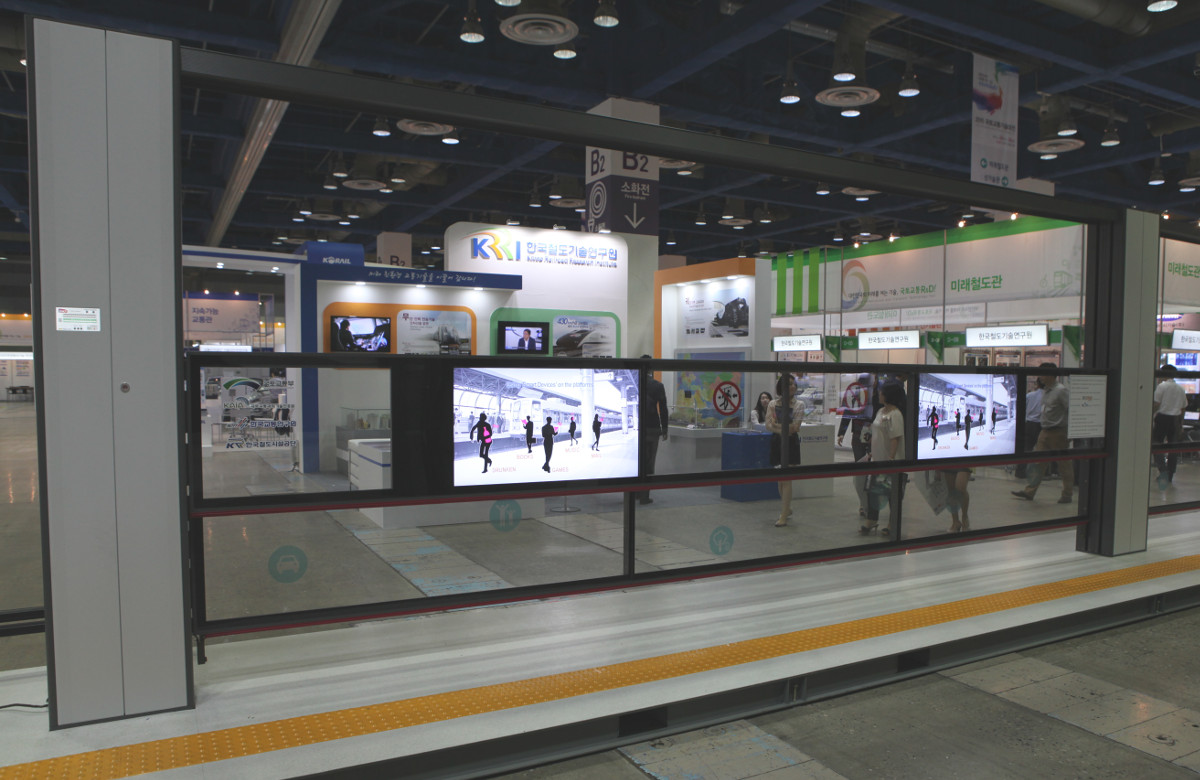 The biggest advantage of this system is that the trains don't have to stop at an exact position. The width of the vertical safety doors is wider. It allows more flexibility. For train stations that offer services to a variety of trains (Mugunghwa, ITX-Saemaeul, KTX etc.) the vertical safety door system can better accommodate the different train layouts and different door positions.
MOLIT plans to introduce the new system at Nonsan station on the Honam KTX Line. The vertical screen doors are going to be installed at train stations mostly. There aren't any plans about replacing current platform doors with the new system. MOLIT emphasizes that it will improve repair facilities for current systems, improve their resilience and add sensors to prevent accidents.
Sources and related information: Korea Bizwire | Seoul Solution | MOLIT