According to an article from Joongboo Daily, construction on the southern Shinbundang Line extension from Gwanggyo to Homaesil won't begin for at least another three years. News of the delay came following the release of a viability study by KDI showing a weak business case.
The planned extension would connect the Homaesil and Hwaseo areas with Gangnam and was originally scheduled to begin construction next year and open by 2022. Results of the study, which were supposed to be announced two years ago, showed a B/C of 0.39 — making the extension's future unknown.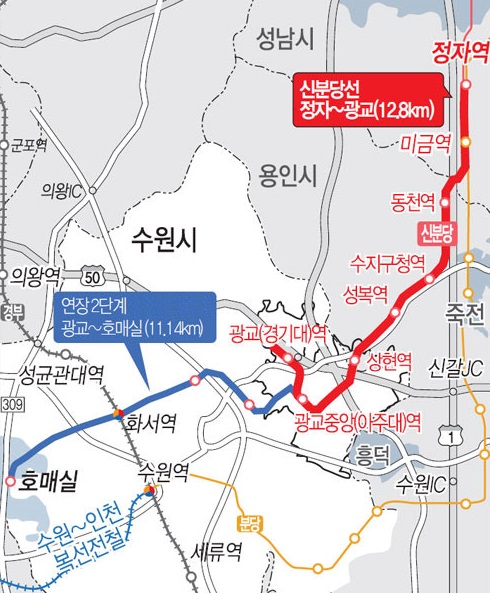 The news will be a kick in the face for home buyers and investors, who have reportedly been purchasing land and moving to the area in anticipation of the line being built. The extension would include a transfer station at Hwaseo Station (Line 1), and would open up a much easier and faster trip to Gangnam for commuters living in the area.
The Shinbundang Line is a privately owned, automated metro line that travels at a much higher speed than other metro lines, helped by the small number of stops. The southern extension to the trendy new area of Gwanggyo opened early 2016, establishing a 30min rail link to Gangnam Station — Korea's busiest metro stop.