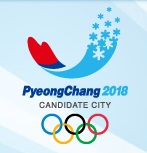 [Updated 9/12/12]Now that Pyeongchang has finally secured the 2018 Winter Olympics there is no doubt that for the next six and a half years planners, organisers and contractors have their work cut out for them. At the presentation to the IOC, many were surprised when plans were announced to build a high-speed rail link from Incheon International Airport to Pyeongchang. After some controversy, it turned out the the "high-speed rail link" was in fact a line to Gangneung that was already planned.
You may have heard about this line which will be built from Wonju Gangneung. Many will jump to the conclusion that this line is being built specifically for the Olympics but in fact, this line has been planned since as far back as 1996.
The line starts at West Wonju Station and is to provide service to populated areas across the Gangwon Province, ending on the east coast in Gangneung. Pyeongchang was always on the plans as one of the stops and is located at the centre of the line. With the Olympics confirmed, no doubt other projects will be put on the back-burner and this will become a top priority. It will be interesting to see how many other projects are affected by the sudden rush to complete this project along with others. By the time it is built, the Jungang Line which starts in Yongsan, Seoul should have been extended to West Wonju Station – meaning that transfers to the line will be easy. Whether fares will be integrated with Seoul's transport system is currently unknown.
Construction on the line began in June 2012 and the feasibility of building an "Olympic Station" is also being investigated. The line itself will be 120km long and plans state speeds of up to 200km/h. KTX trains are expected to be able to travel straight from Incheon International Airport and onto the line.
Apart from the Olympics, the line will provide Gangwon residents with an easier way to travel across the region rather than the windy roads which are still commonplace in this region.
Sources and Links: FRDB | Previous map