Last week, Seoul City government announced that the roads along the Cheonggyecheon are going to have bicycle lanes from April to June and from September to November on every Sunday from 9 am to 6 pm. The Cheonggyecheon bike lanes of 3.8 km (from the beginning of the stream to the Cheonggye-7-Ga (청계천7가)-bridge) are going to be temporally installed once a week. A Cheonggye-7-Ga it connects with the already existing bike lanes of 2.1 km length all the way to the Sindabcheol-bridge (신답철교). This existing bike path is 1.1 m wide. The new bike lanes gets a temporal line and physical separator through traffic cones to the car roads are going to secure 1.5 to 3 m of bike path. This means that the whole Cheonggyecheon is going to be equipped with bike lanes. If this measure proves to be successful, bike lanes might be installed there permanently in the next year.
Cheonggyecheon Bike Lanes
A day after I posted this, I was actually at the area where the bike lanes exist. So here are some pictures: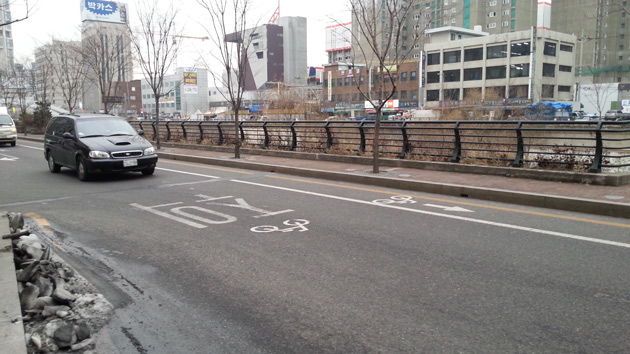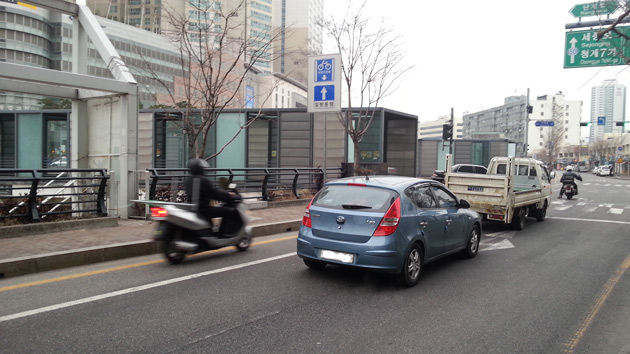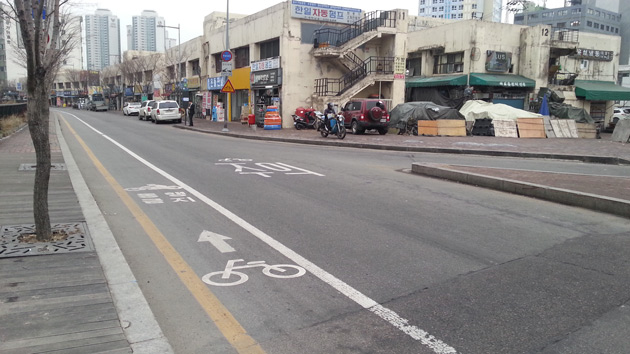 I hope to see more projects which involve bike paths in the inner-city. News articles don't mention anything concerning cars and that the roads might be totally closed for cars during these times. It's clever that the bike lanes are on the left side of the driving direction. So they get easier attention of cars and minimize risk of accidents than they would if they cycle on the right side.
Sources and related links: Yonhap News