On Sunday, November 18th, I went to downtown Seoul because I wanted to see Sejong-ro without any traffic. The road Sejong-Ro (between Gwanghwamun-Station and the actual Gwanghwamun) was closed on one side, which was the second time for this purpose. Our last post talked about this measure under point 1: The city government plans to close the road in that one direction now on every third Sunday of a month. Back in November, it was a really great experience and I took a lot of pictures.
Sejong-ro Car-Free Sunday
From 7am to 7pm Sejong-ro was transformed to a pedestrian zone and for this special occasion Seoul organized an international flea market.  Because the Seoul City government wants to close that side permanently, such events are a great way to test it and to show how it to the citizens.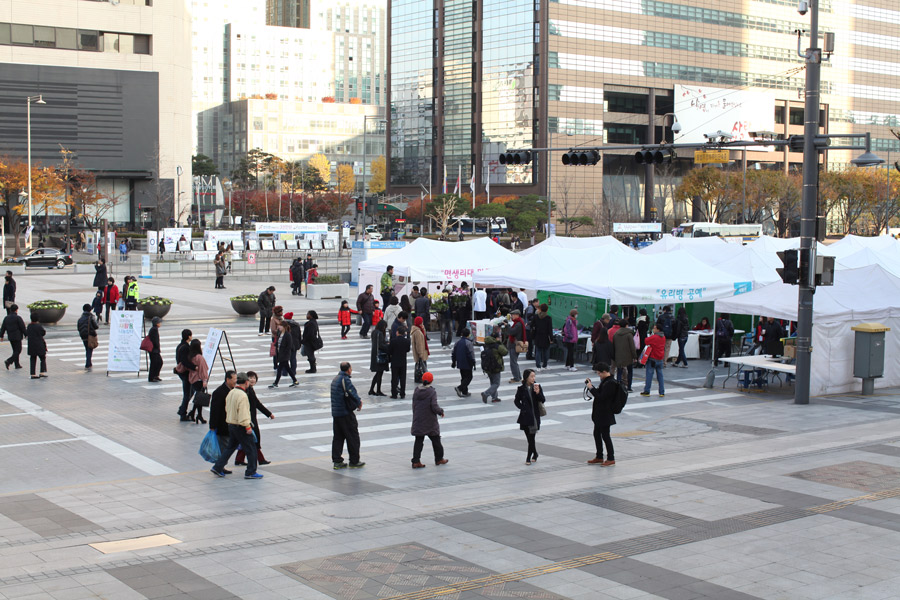 It was a well-organized flea market and as you can see  the best feedback is that a lot people came.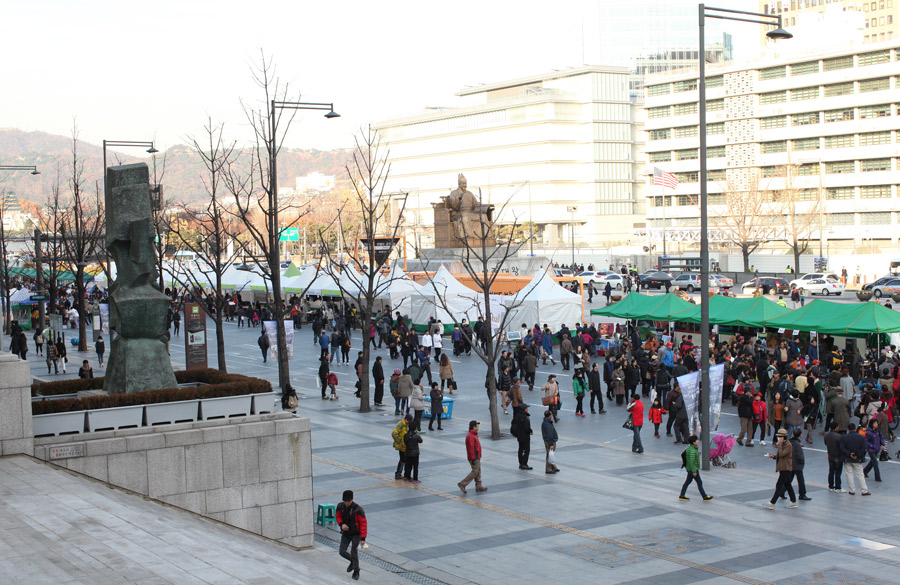 Isn't it great to see a five lane road getting transformed to a place for pedestrians?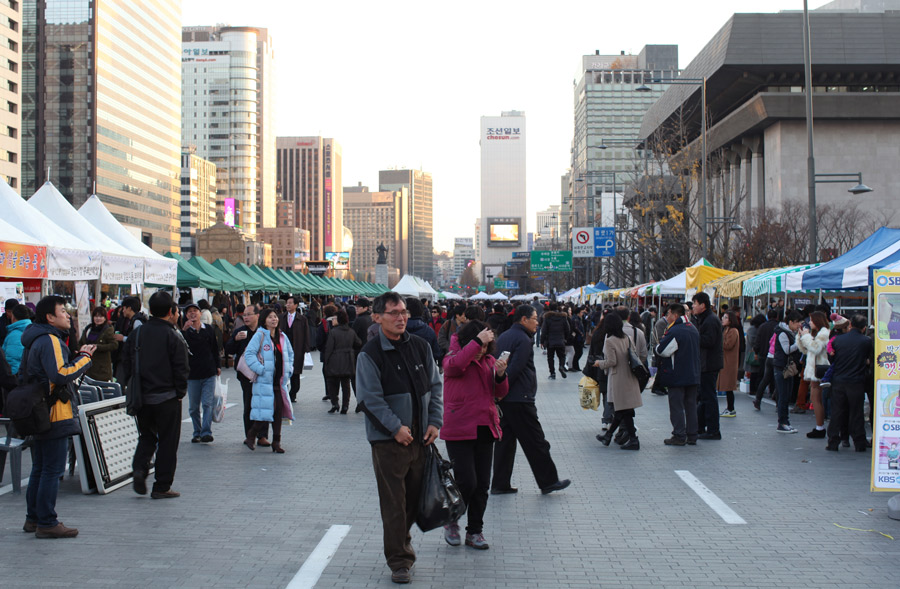 Usually, it is a little bit uncomfortable to walk to the palace with noisy traffic on both sides of you. This time it was so much better. The traffic on the other side wasn't disturbing at all. Probably, due to the event the traffic on the other side was also heavier than usually, so the cars couldn't drive fast (and produce loud noise).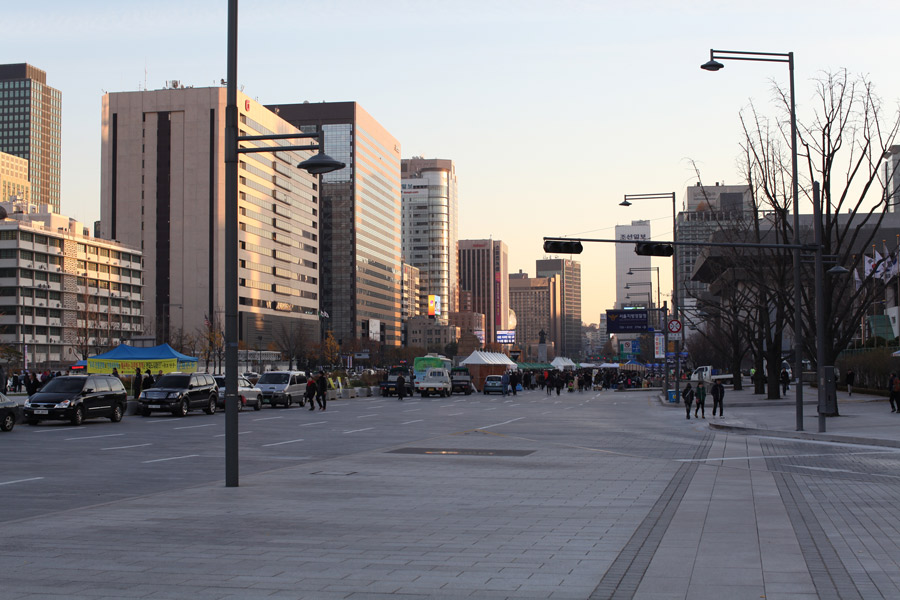 If you look at the picture above and the next one, you can see how suddenly a lot of facilities and structures get useless and unnecessary.
After the event, the clean-up was very simple.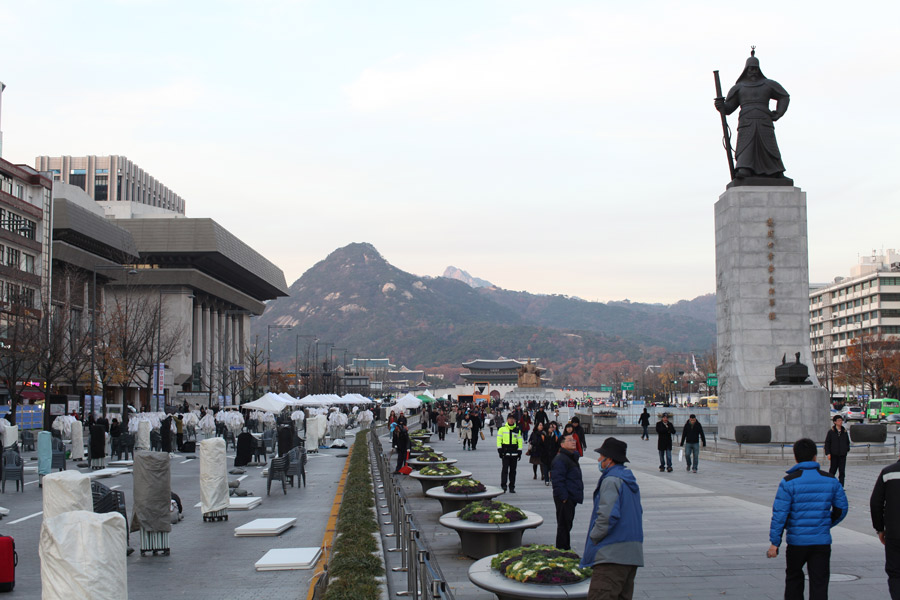 Near the main gate of the palace I saw an art pieces from the 72 Hour Project. This was a project which took place over a period of three days. In several places throughout Seoul, groups of people constructed benches and sitting opportunities in innovative ways. They live-tweeted about the construction at @greenseoulcity with the hashtag #72시간의자프로젝트, translated it means "72 hours chair project".
This projects shows two major developments in urban planning: First, it shows how fast you can transform the public space. I don't know how long the chairs are going to stay there (maybe they are already removed?), however the designs are well-thought and the constructions seem to have a high quality. Second, it shows how you can promote such actions with the help of SNS. It doesn't cost anything to upload a picture to Twitter and Facebook. It is possible to reach a lot of people. Besides, the messages are presented in a chronological order, which makes it so great. It was very interesting to see the development. You can see the results and the whole process on their Facebook Page.
Conclusion
In November, it was still a speculation if they are going to repeat the closing. In my opinion, they could close this side of the road permanently. It's already bad enough that there is a big street in front of the palace. So at least the walkability to this main tourist attraction should be improved.
Links and Sources: Seoul City Blog | First Event