Are you fed up with cars blocking the sidewalk? Do you want to report wrongly parked vehicles but you don't want to call the police and explain it to them in Korean? Kojects is going to show you how to report illegally parked cars in Korea through two apps. This post is going to focus on the nation-wide app and another post is going to introduce Seoul's smartphone application.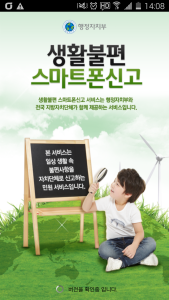 If you search for 불편신고, you will find a couple of apps in the Google Play Store (sorry, I don't have an iPhone to check the iTunes Store). The first one in the list is the official app for reporting daily inconveniences by the national government. It is called 생활불편스마트폰신고, roughly translated: Smartphone reporting system for daily inconveniences.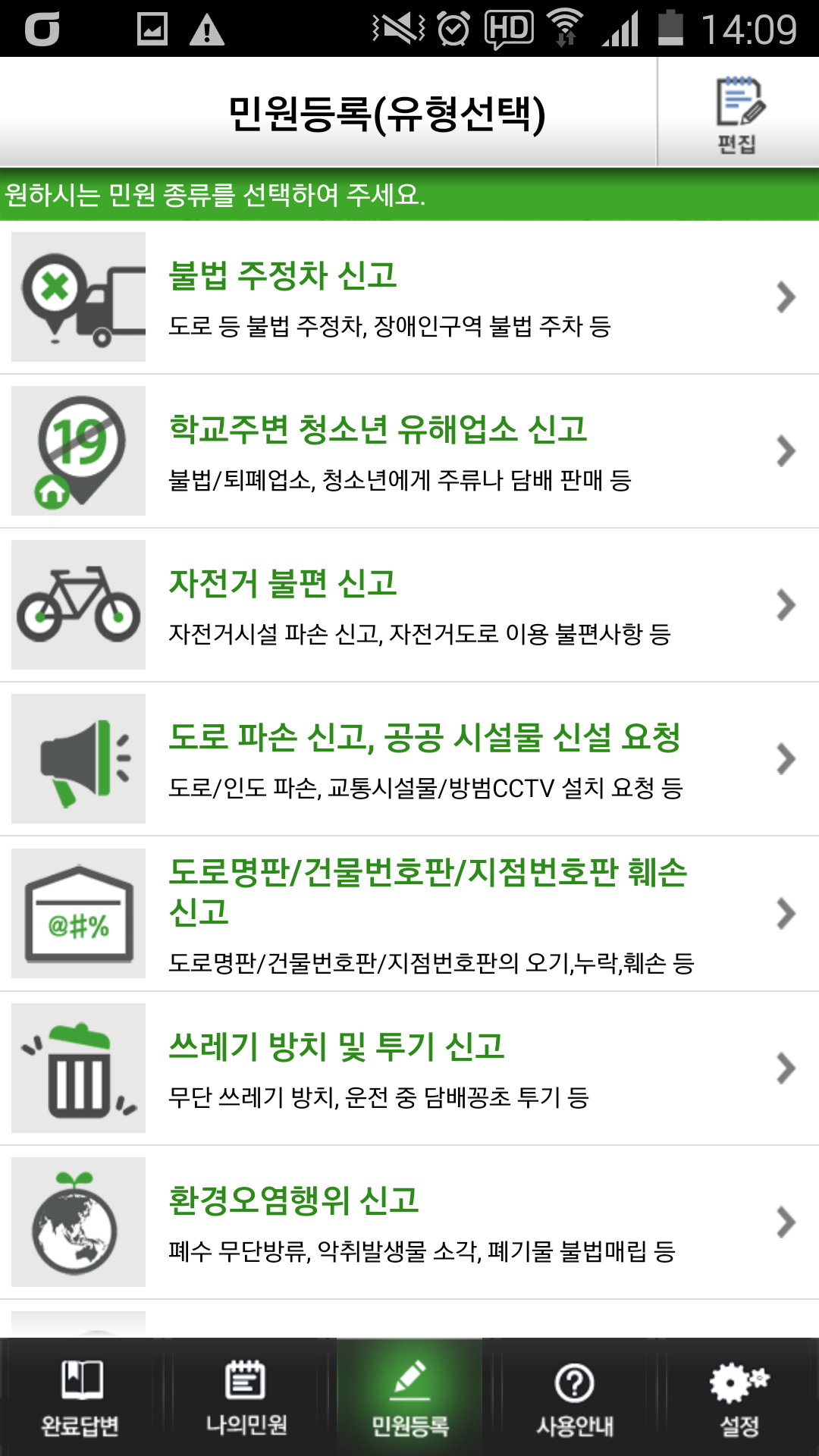 After the registration you see the main menu. There is a variety of categories. The order is: illegal parking, harmful businesses in the proximity of schools, bicycle-related inconveniences, report of road damages or application for public facilities (like CCTV), street name-related problems, littering, environmental issues.
So let's select the first option.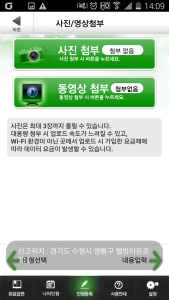 Then it will ask you for pictures or a video as evidence. You can upload up to three pictures.
In the next step you have to choose the parking violation. There are three options:
– illegal parking
– illegal stopping
– parking on a parking spot for handicapped people
Parking means that a car stands with a turned-off engine for more than five minutes and that the driver isn't in or close to the vehicle (in other words: he can't immediately move the vehicle). You can read more about parking violations at Klawguru.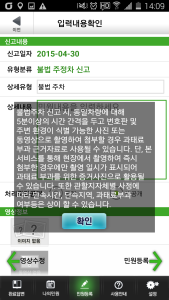 Each option gives you also a short explanation. Here it's important that your pictures also capture the surrounding because the exact location has to be identified. Pictures or video material should show that the duration of illegal parking is longer than five minutes. Only in such cases it's possible to fine the vehicle owner.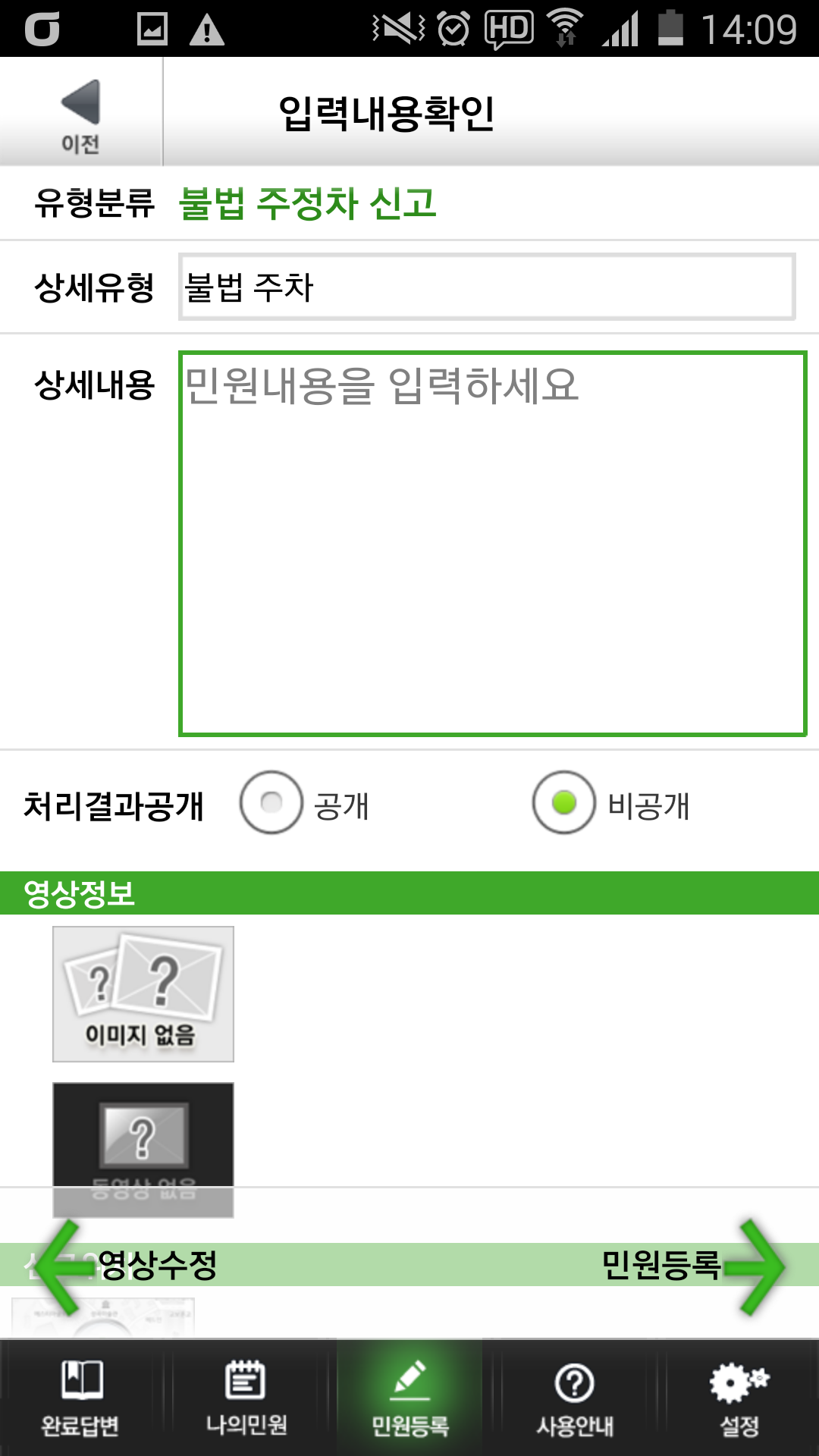 In the last step you have to give a detailed description of the situation. I don't know if English is accepted or not. Probably the pictures/video are anyway more important than the explanation. And then you have to choose if you want to share the result or keep it private. I think that they will show the results in a public list if you select "공개".
If you scroll down, you will see that the app already selected your current location. In the right corner you can send the complaint.
That's it! The report will be saved in your profile. There you can also see if the inconvenience was resolved. This app can be used anywhere in Korea.
The next post is going to show how to use a similar app for Seoul.