Incheon's first subway line opened in 1999 and nearly 17 years later, Incheon Line 2 is set to open next year in July.
Incheon Line 2 is a light rail line that has 27 stations and spans over a distance of 29.3km;  6.1km above ground and 23.1km underground. The route begins at the top of Incheon at "Oryu" in the area of Geomdan and travels south through the central areas of Incheon and then east to Incheon Grand Park where it terminates at "Seochang". On its way down it passes through several transfer points at Geomam – Airport Railroad, Juan – Line 1 and Incheon City Hall – Incheon Subway Line 1. Additionally, an extension to Seoul's Line 7 will link up with Incheon Line 2's Seoknam Station, with construction already underway. According to one article the opening of this extension has been pushed back  from 2018 to 2020.
Update 16/7/30: The map below was created before station names were finalized. Please see the final map here.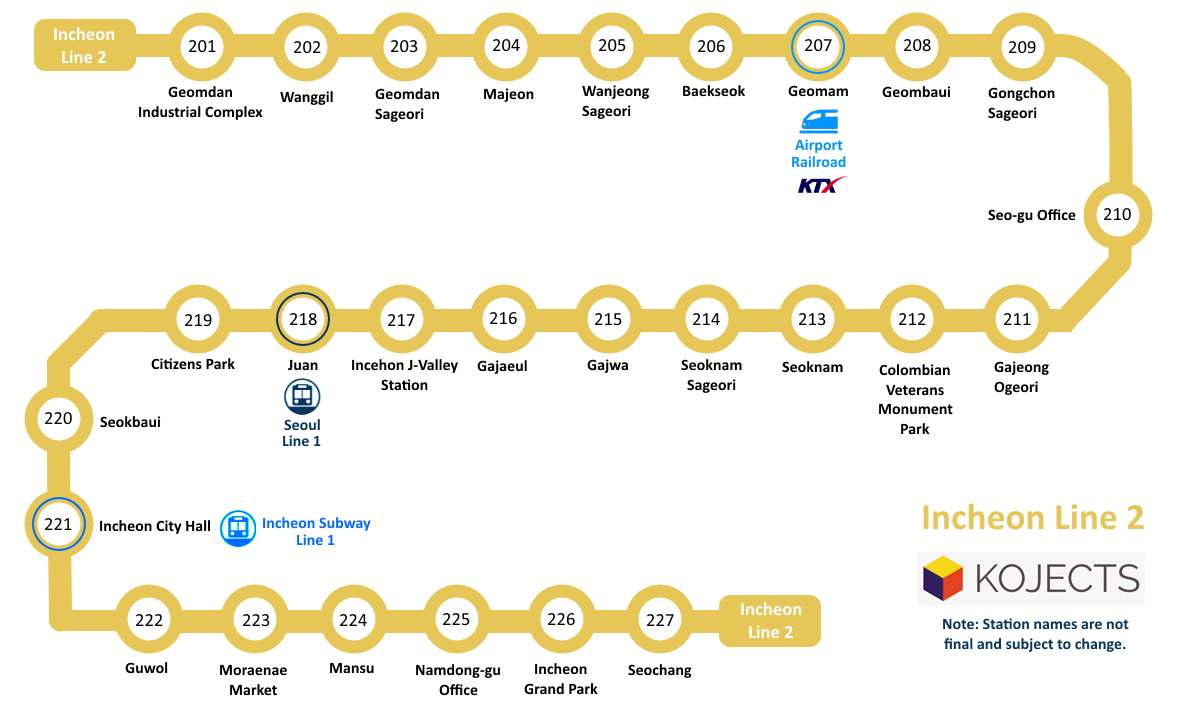 10 Won Tips wrote about the route last month and created an online map with the locations of each station. As 10 Won Tips mentions, the names for some stations haven't been finalised yet. There are also a few maps floating about that for some reason aren't showing the final station "Seochang" (which is directly next to the depot), even though it has already been built.
One part of the line in Yeonhee-dong has been gaining extra attention for its steep incline, especially when taken from certain angles as shown below. Check out Railroad Paradise for more images of this section of track. Here is the location on Daum Roadview during the early stages of construction. Inclines on other rail lines are generally much more gradual such as this one on Line 2 in Seoul.
Incheon Line 2 — A Light Rail System
Unlike Incheon Subway Line 1 which is of course standard rail, Incheon Line 2 is a light rail system which was selected for its reduced noise, reduced energy and lower cost. According to the Incheon Urban Railroad Construction Headquarters' website, construction is 1/3 to 1/5 cheaper than the cost of building a standard subway.
Trains on the new line are only two carriages long and can fit up to a total of 206 passengers; stations have room for up to four carriages. See here for a good view of the new trains waiting to be tested earlier this year. Hyundai Rotem manufactured the carriages of which there are 74 (37 pairs). Here is slightly over-dramatic and overly long video of the delivery of the cars. Testing began last month and will be continuing right through until it opens next year. See video of a test run below and more images of testing here and here too.
Below is a video from inside one Incheon Line 2's carriages (view from 1:51)
(Please note: Video chosen for content only, Kojects has no political affiliations.)
According to FRDB, Incheon Line 2 was originally put on the backburner but rapid progress on the project was made after Bombardier, one of the world's largest rail manufacturing companies came forward with investment. The line was also reportedly planned to be further south but was shifted so that the route would head east towards Incheon Grand Park instead.
Safety Concerns
With every new rail project there are the same articles in the media around concerns about safety and Incheon Line 2 is no different. According to one article from Hankook Ilbo, the "Incheon Resident Taskforce for the opening of a safe Incheon Line 2" has concerns that the Incheon Metropolitan Government has underestimated the required capacity for the line. The article says  that the 2 carriage trains on Line 2 only hold a fifth of the passengers that Incheon Line 1 can transport and mentions concerns of a "지옥철 (subway hell)", a term that was used a lot in reference to the recent Line 9 extension opening. There are also fears that safety could be compromised in the event of an accident or malfunction as the trains are driverless and stations are situated quite deep underground.
Transport reviewer Woojin Han says on his website, "There are many concerns about the capacity of the Light Rail System, but Incheon Line 1 isn't even currently operating at its full capacity. If the LRT is operating at high density, it will match that of the subway which is low density and so there shouldn't be any problem with capacity." Han also says that there are many advantages to light rail including reduced construction and operating costs, less noise and vibration, as well as shorter waiting times.
According to this Yonhap news segment, the safety of the driverless system has already been proven and is the same system already in use on Busan's Line 4 and the SinBundang Line. 24 safety personnel will also be placed at stations along the network. Of course there is also room for trains to be extended to 4 carriages if required in the future.