Today Yeongjong Station opened on the Airport Express line (A'REX) bringing the number of stations on the line from 11 to 12. Yeongjong is the most eastern station on Yeongjong Island, located between Unseo and Cheongna International City stations. The addition of the station means that an all-stop train from Incheon International Airport to Seoul Station now takes 58 minutes.
Leading up to the opening of the new station, residents on the island who use Unseo Station have been becoming increasingly frustrated with paying higher fares than those who use Cheongna International City Station, only one stop away.

At the moment a ride on the A'REX from Unseo Station to Seoul Station will set you back ₩3,250, while a trip to the same station from Cheongna International City costs only ₩1,850. The reason for the difference in fares is that Seoul's transfer discount zone only covers from Seoul to Cheongna International City. Consequently, the newly opened Yeongjong Station isn't included in the zone either and the fare to Seoul Station is ₩2,750.
To be fair, while Cheongna International City is only one station away, the distance between the two stations is not just a few blocks, but approximately 13.5km – this includes crossing Yeongjong Bridge. Nevertheless, having to pay higher fares motivated Yeongjong Island residents to start a petition for the discount zone to be extended, and in February had been signed by over 5000 people.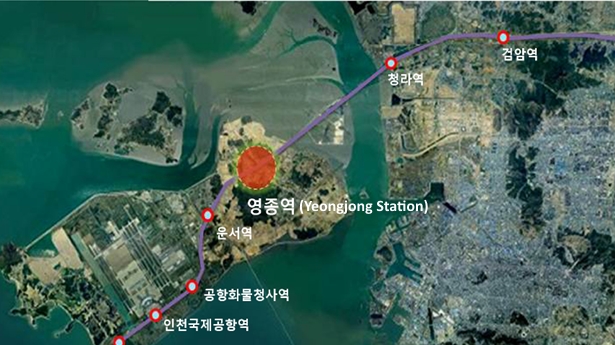 According to the Ministry of Land, Infrastructure and Transport, in order for these stations to be included as part of the zone, Incheon City needs to supply the cost of ten billion won — this is on top of the 300 billion won a year that the ministry is already supporting the line with. However, Incheon says that MOLIT has reduced its financial support for the line since it was taken over last year and switched to a cost support model, and believes that the ministry needs to front the cost due to upcoming developments in the area which will increase passenger numbers.
As mentioned in previous posts, extensive development has been taking place on Yeongjong Island in many forms. In particular, the new development Midan City is expected to house up to 10,500 residents. It will be interesting to see if an increase in resident numbers does result in either the city or the central government coughing up the required cost to lower fares for commuters.
Source:  The Hankook-Ilbo | Yonhap | Kyeonggi.com