Yesterday the Ministry of Land, Infrastructure and Transport announced that construction on the long-awaited northern Shinbundang Line extension would get underway this year.
Once the project is given the green light at the end of the planning stage in June, construction will begin in August on the first section from Gangnam (강남역) to Sinsa Station (신사역). This is expected to take just under six years, with a completion date of early 2022.
Earlier this year we mentioned that the northern extension was still quite a way off, despite being outlined on subway map apps for several years, giving a false impression that it would be coming soon.
All three stations on the 2.5km extension will be transfer points — Sinnonhyeon (Line 9), Nonhyeon (Line 7) and Sinsa (Line 3), making travelling to these areas even easier for commuters from Seongnam, Yongin and Suwon. Once open, it's expected that a trip from Gwanggyo to Sinsa will take 40 minutes.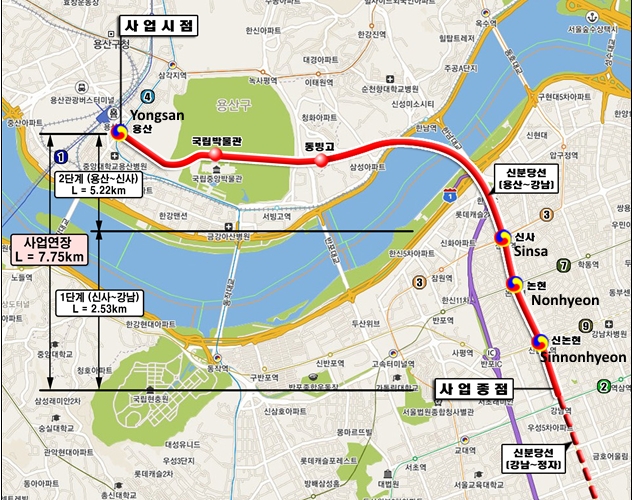 The real bonus will be for those that already work or live in the Seoul area willing to pay a little bit extra to quickly jump between these popular areas. While there are several lines that stretch across the Gangnam district, if travelling "vertically" you usually have to catch a bus or go out of the way to transfer via subway. The introduction of the northern Bundang Line Extension in 2012 helped with this and the new Shinbundang Line extension will make it even easier to travel between such locations.
Nearly six years may seem like a long time for such a short extension, but one mustn't forget that it will involve digging deep under Gangnam-daero, one of the busiest streets in Gangnam-gu. There will be a spiderweb of current infrastructure to work around as well as constructing three new transfer stations.
The remainder of the extension will be a 5.22km section from Sinsa that passes through Dongbingo(동빙고), National Museum of Korea(국립박물관) and ends at Yongsan(용산). MOLIT says that work on the second phase of the extension will begin as soon as the army base at Yongsan is moved. This extension will also take six years to build, so don't get too excited just yet.