Korea is a hidden secret for train lovers. There is a huge variety of trains from high speed to specialised tourist routes and it's also a fantastic way to see the Korean countryside. Click the different sections below for more information.
See our Tourist Trains page if you're looking for a more themed adventure!
Rail Passes
KORAIL Pass
Similar to the Eurail Pass and JR Pass, the Korail pass gives visitors to Korean unlimited access to most standard passenger trains for a fixed period. Please note that the Korail website requires you to purchase the pass before you come to Korea. There are 1-day, 3-day, 5-day, 7-day as well as flexible 2-day and 4-day passes. There are separate fares for adults, youths (13-25), children and groups.
The Korail pass is a great deal but check your itinerary closely as train tickets in Korea are generally not expensive. Please note that the Korail Pass doesn't include subway rides or tourist trains.
| | | | | |
| --- | --- | --- | --- | --- |
| Type | Adults | Children | Group Ticket (up to 5 people) | Youth Group Ticket (13 to 25 years) |
| One-Day Pass | 81,000 | 40,000 | 72,000 | 64,000 |
| Three-Day Pass | 113,000 | 56,000 | 102,000 | 90,000 |
| Five-Day Pass | 168,000 | 84,000 | 151,000 | 134,000 |
| Seven-Day Pass | 195,000 | 97,000 | 176,000 | 156,000 |
| Flexible Two-Day Pass | 102,000 | 51,000 | 91,000 | 81,000 |
| Flexible Four-Day Pass | 154,000 | 77,000 | 138,000 | 123,000 |
Find out more about information and how you can order the KORAIL pass here.
Are you a foreigner living in Korea?
If you're in Korea for over 6 months you won't be able to buy a Korail Pass, but you can still buy the Happy Rail Pass which also entitles you to unlimited use of passenger trains for up to five days.
Rail+ – An All-in-one Payment CardMost transport cards work on a lot of different buses and metro systems nationwide but can be used more and more these days to pay for other things. One of these cards is Rail+ from Korail which you can use to pay for the subway, bus, train, taxis, highway toll gates and parking. It can also be used in Storytime convenience stores and to borrow shared bikes.
How to Buy Tickets
Tickets can be bought online via the links below or at stations which service passenger trains via the counter or self-ticketing machines.

Mobile Apps:
Korail has an official app "KorailTalk" which can be used to book train tickets straight from your smartphone or mobile device. Unfortunately this app is currently only available in Korean.
Different Types of Tickets
Apart from the standard tickets there are also other types of tickets available.
Standing room tickets –  These tickets are cheaper than standard tickets and don't have a designated seat. This means you're welcome to sit in any free seats but if someone with a ticket for that set boards, you have to get up. If there are no free seats you are required to stand.  These tickets are popular during peak seasons due to the high demand for tickets.
First class – Available on KTX/KTX-Sancheon trains. First class cars have more leg room and also offer free unlimited bottles of water, sleep masks, newspapers, books and headphones which you can listen to music with in your seat.
Special class – Available on Saemaul and some Mugunghwa services. Passengers using standing room tickets can't use these cars, a luxury during the busy seasons when trains are packed. These cars have more legroom and often have a screen playing videos which can be listened to via headphones. Note that there is no special class on ITX-Saemaul services.
Catching Trains
Catching passenger trains is Korea is very easy — just hop on!
You do not need to show your ticket or pass through a gate. Simply check the information boards and head to the gate your train leaves from. Find your car number, get on the train, find your seat and enjoy!
Do make sure you keep your ticket with you at all times though as staff will come through and check that passengers are in the right seats.
You may also need to show it to other passengers if you find someone else sitting in your seat; don't be surprised if you do, as they are most likely travelling on a standing room ticket.
Types of Trains
KTX (Korea Train eXpress)
The KTX and KTX-Sancheon trains are high speed trains that can travel at a speed of up to 305km/h. The first KTX trains began service in 2004 and the number of new high speed rail routes continues to grow rapidly. As you might expect, KTX services are expectedly a bit pricier than other options but KTX services are great if you have to travel across the country but don't have a lot of time as a trip from Seoul to Busan averages around 2hrs 30mins. KTX-Sancheon trains are newer than KTX trains but there are no major differences between the services.KTX and KTX-Sancheon trains service most major cities including: Seoul, Busan, Daejeon, Daegu, Gwangju, Ulsan, Gyeongju and Jinju. See the map below to view all KTX stations.
Looking for Incheon International Airport KTX times? Please check the timetable via their website.
ITX-Saemaeul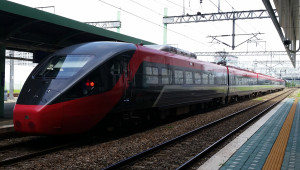 The ITX-Saemaeul is an express train that is half the speed of the KTX. It has more stops and serves many main train routes around Korea. The prices are about 20 to 30% cheaper than the KTX. The ITX-Saemaeul is a relatively new train which began replacing the original Saemaeul trains in mid-2014. There is still one Saemaul service which operates on the Janghang Line.
Mugunghwa
The Mugunghwa is the cheapest and slowest type of train in Korea. However, a ride on this train is also a special experience. It puts you back in to a time before trains in Korea became very fast and is a fantastic way too see the Korean countryside. The trains are even equipped with a cafeteria, a noraebang (a singing room) game arcades and computers. These trains are available on most routes, though less common than they used to be with the development of high-speed rail.