A transformation took place in Sinchon (신촌), a popular nightlife area in front of Yonsei University! Seoul forbids private cars on the main road Yonsei-ro since January 2014. This measure was accompanied by a overall facelift of that street. The 500 meters from Sinchon Station to Yonsei University became the first transit mall of Seoul. Last Friday I had the chance to explore the area. In my opinion, it is an outstanding project and the area improved immensely. Others areas in Seoul and all over Korea are going to get transit malls, too. Let me explain the details of Korea's transit mall concept. I've made many pictures of the new Yonsei-ro in order to make it easier to understand.
What Is a Transit Mall?
A transit mall is a street or area, where private vehicles are prohibited and only public transport (sometimes taxis), pedestrians and bicycles are allowed to use the roads. The first transit mall of Korea was built in Daegu. Another transit mall is planned in Busan (planned for this year). Sinchon is Seoul's first transit mall.
Transit malls exist mainly in the USA, Australia and Britain. I've never saw such a concept before I went to Sinchon. From Germany I'm more familiar with shared space. It's a very effective concept to boost public transport and improve the walking environment of an area. Seoul's mayor Park Won-soon announced in 2012 that he wants to transform Seoul to a pedestrian-friendly city.
Exploring Sinchon's Transit Mall
The construction of the transit mall in Sinchon begun in September 2013 and the changes have been completed within three months. The official "reopening" of the street was on January 6th 2014. The following map tries to shows where the area is.
The problem of the Yonsei-ro was that the street had four lanes and because of the huge amount of traffic, it was often congested. The majority of private vehicles just passed through the area but they caused air pollution and noise. The average speed of public transport in that area was lower than in other areas in Seoul. The amount of pedestrians is also very high and the sidewalks were too narrow.
So Seoul decided to try out the concept of a transit mall. In Korean the transit mall is called "대중교통전용지구", which directly translates into "exclusive public transport zone". That's very interesting because "zone" implies that it isn't limited to a street. I hope that they are going to expand the public transport-only policy to surrounding streets in Sinchon.
The yellow traffic sign on the main road informs drivers that private vehicles aren't allowed to turn right into Yonsei-ro and a few meters later the blue sign says that this road is completely car (and bus)-free each Saturday from 2 pm to Sunday 10 pm. Taxis are allowed to enter the street from midnight to 4 am except for Saturday nights, when no cars are allowed to enter. The sidewalk is three times as wide as it was before: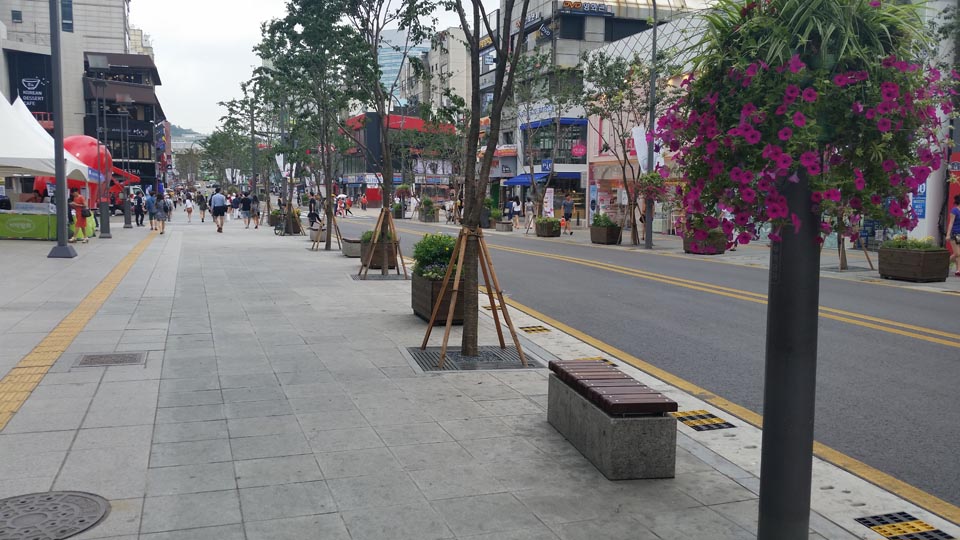 Streets disappeared, public space was created. A variety of events is possible there!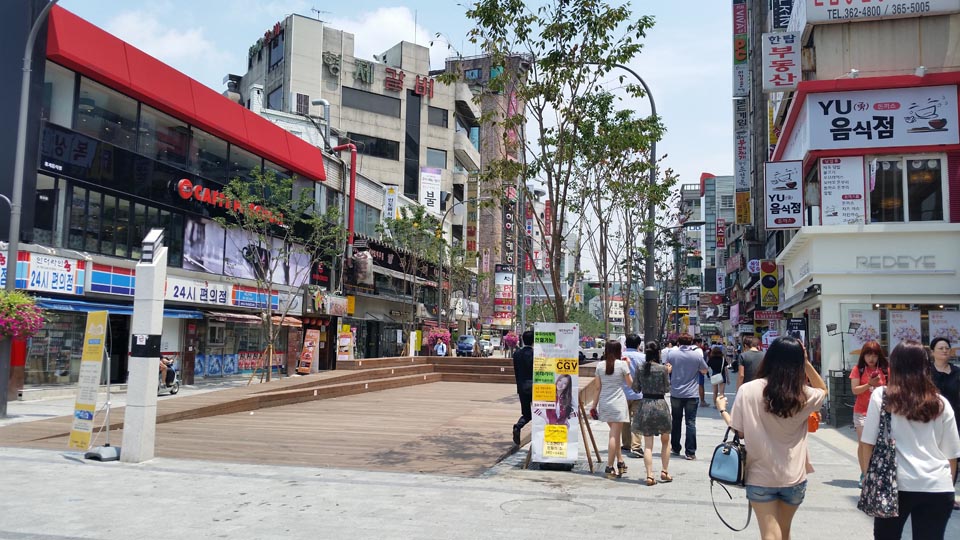 Seoul is unfortunately still trying to decrease the number of food stalls. Instead of forbidding street vendors completely, the district set up permanent stalls for them. I'm not sure how it looks at in the night, when usually most of the food stalls are set up. Maybe there are still street vendors with carts.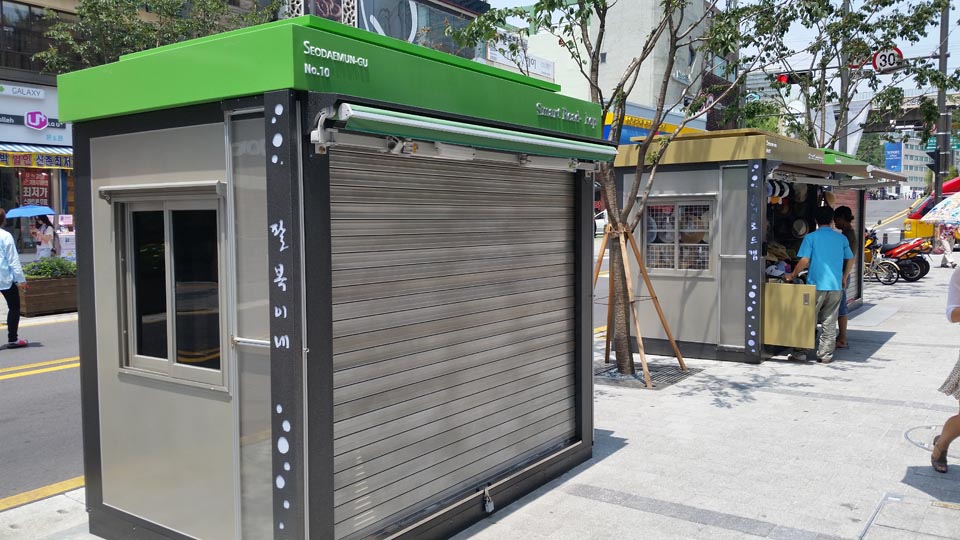 Only buses are allowed to use the Yonsei-ro. I saw a lot of tourist buses and all of them just passed through the area. Now it's June and my impression was that half of the buses have been tourist buses. I'm concerned that there might come more tourist buses in July and August, too many for the new two-lane road.
Motorcycles and scooters aren't actually allowed on the Yonsei-ro but they are still there. At least they are staying away from the sidewalk.
The area has three bus stations: Two stations are on the lane, which goes north (to Yonsei) and one station is on the opposite site. Eleven city bus lines (six green buses and five blue buses) as well as three local buses (Maeul-buses) are passing through Sinchon.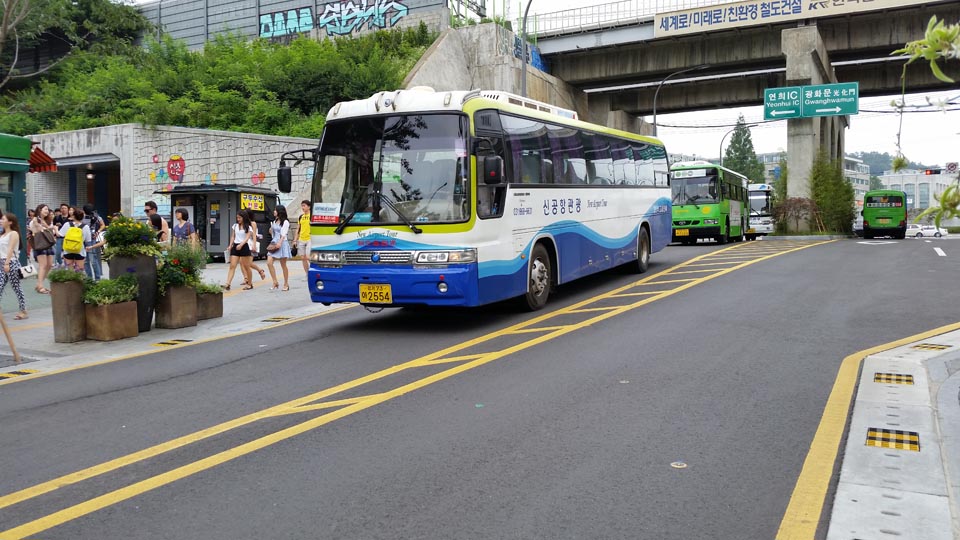 At the northern entry of the street was one traffic regulator: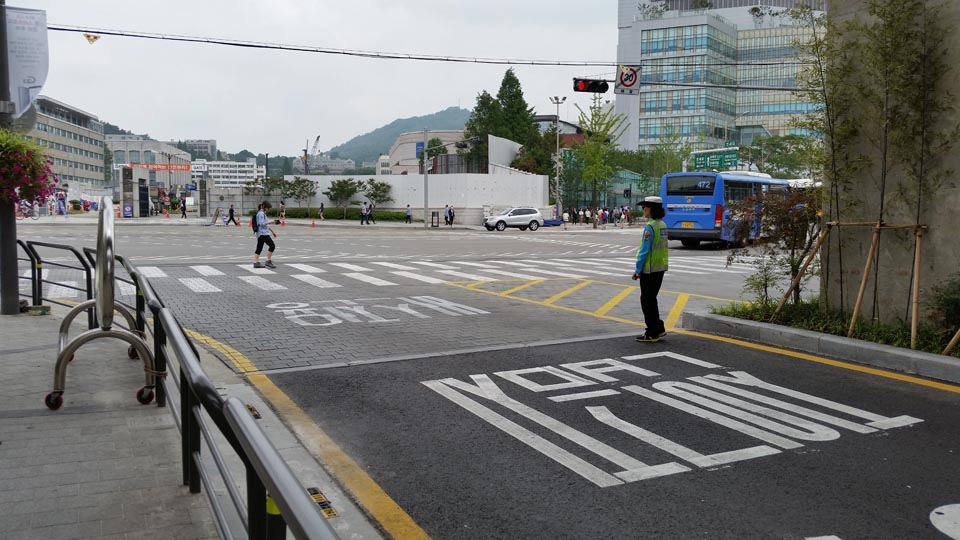 She prevented cars from entering the street and pointed often towards the asphalt, which says that cars are forbidden: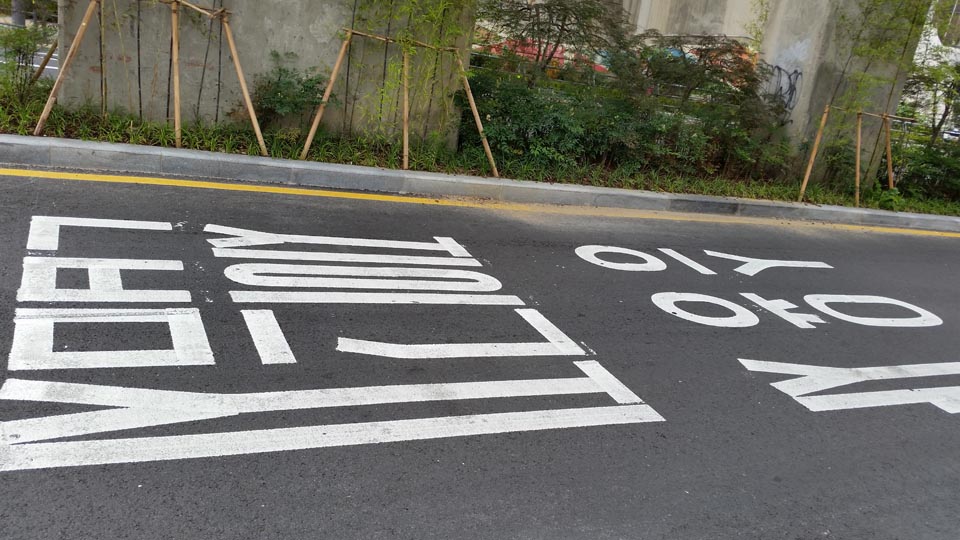 Here's one more traffic regulator, who takes care that private vehicles are only crossing the road. As you can see on his back, it says "모범, Best Driver". All of these traffic regulators are former taxi-drivers, who performed very well in their job. They were chosen by Seoul to control the traffic, because they know the traffic the best and they know how to talk to taxi drivers.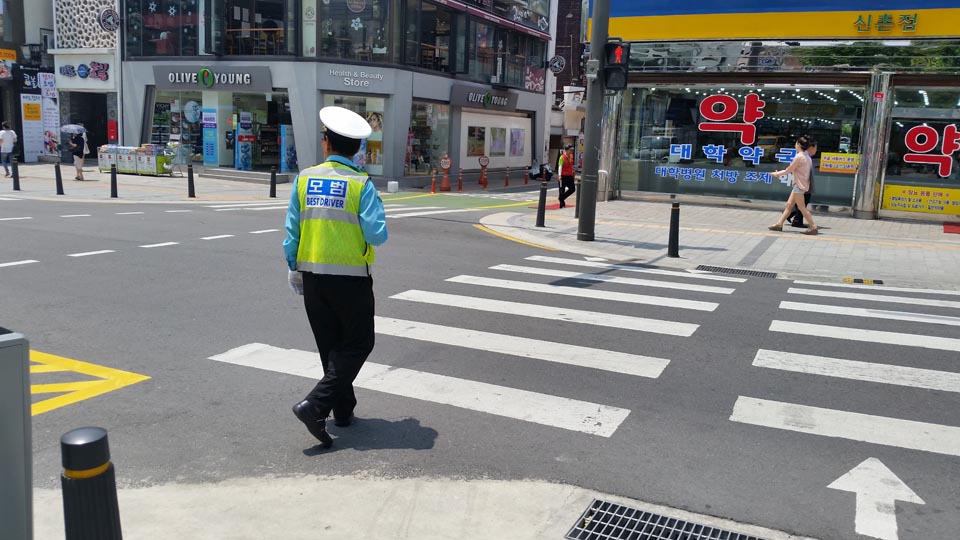 There are two places, where cars have to cross the Yonsei-ro. Other roads have been blocked: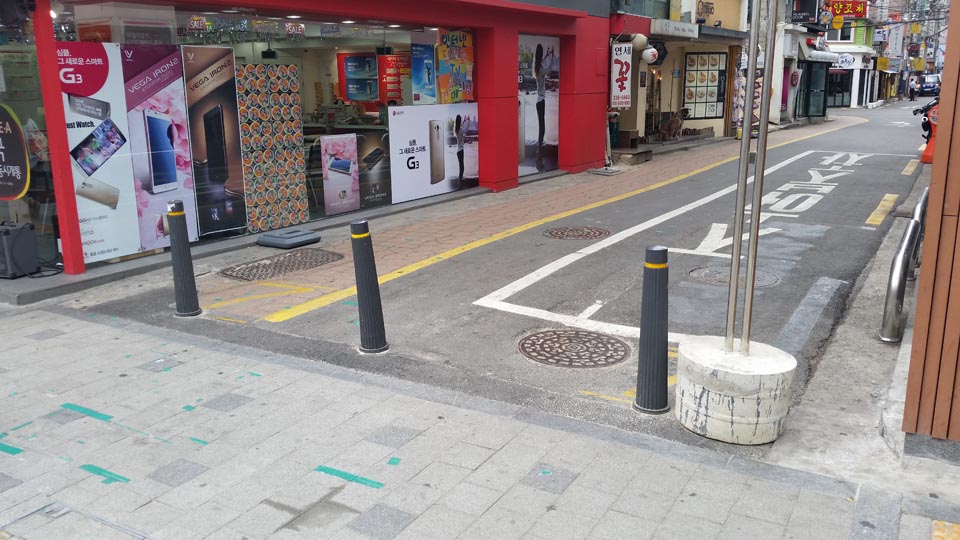 A nice change is that there is now a sidewalk under the rail bridge on the way to Yonsei University. A pedestrian crossing was also added on the left side in front of the main gate of Yonsei!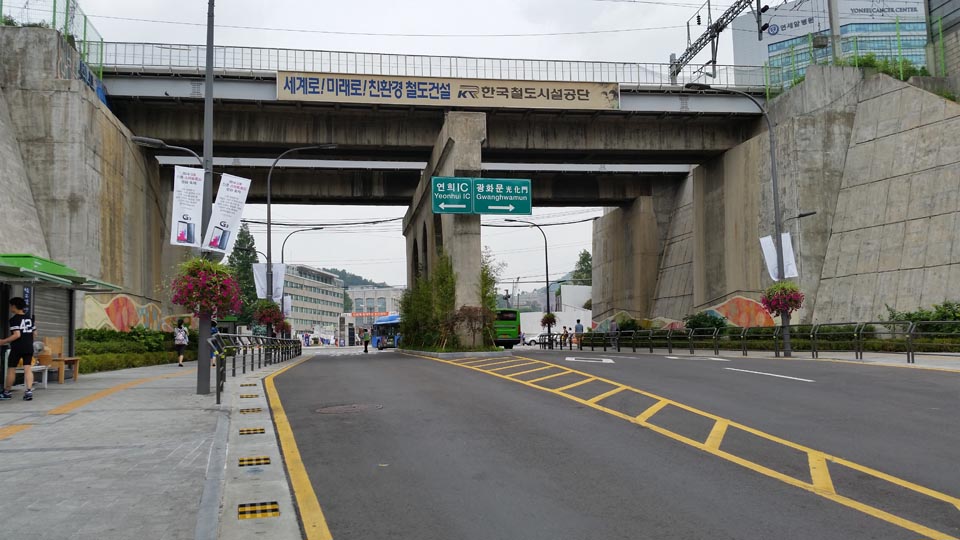 Before that pedestrians had to pass through this underpass on the left: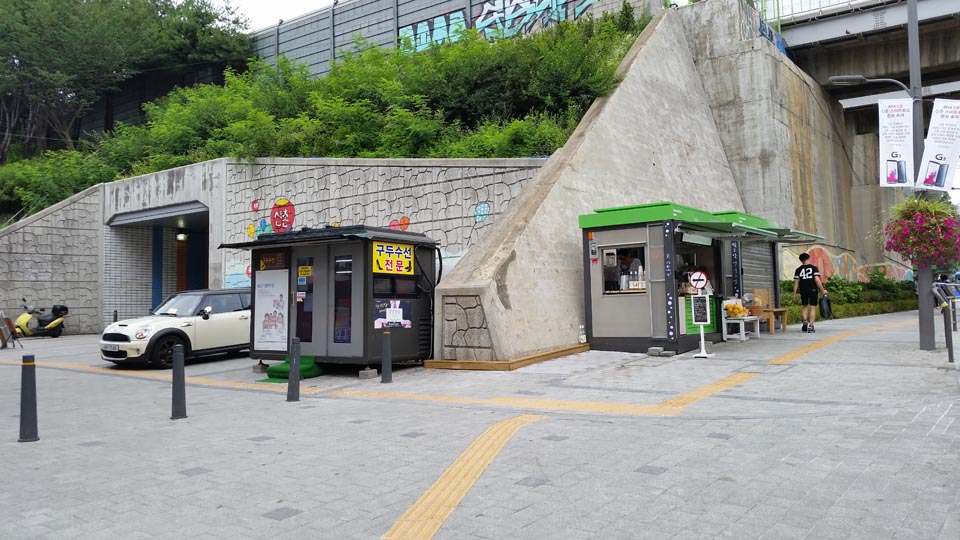 Sinchon had a large crossing in the center. The street crossing Yonsei-ro there was closed and in result, a huge public space was created. There is a small stage for performances and a square for events. It is a great improvement in comparison to before.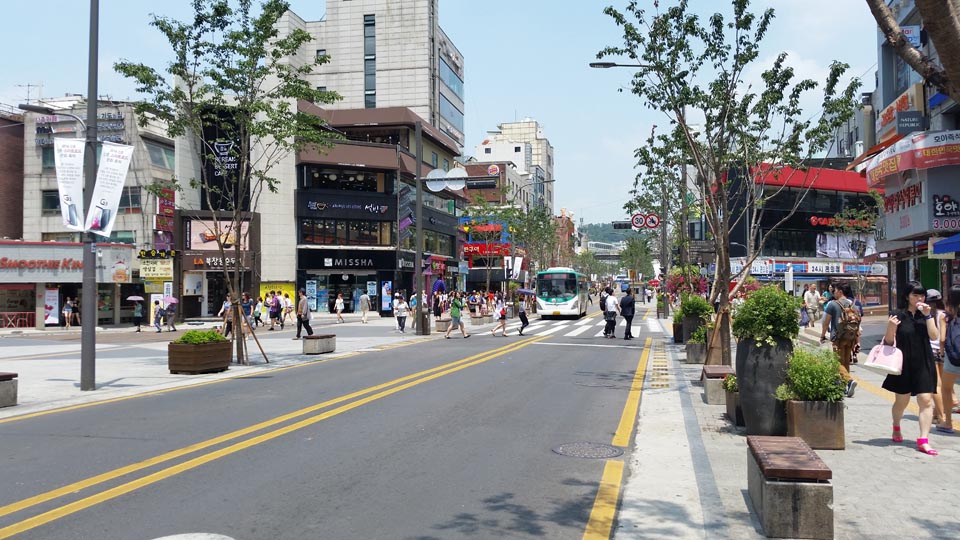 Very interesting is an article, written by a Yonsei student, in the university's journal "The Yonsei Annals". The title of the article is "The Good, the Bad and the Transit Mall". The introduction and description of the development is similar to my post but the author shows pros and cons. Even though I don't agree 100% with him, I tried to summarize them:
Pros:
better traffic and walking environment, no air pollution
revival of campus culture in Sinchon
establishment of a public space to express opinion, discuss issues and get entertained
more visitors = more profit for retail
a cultural hub for young people
 Cons:
congestion on the streets surrounding the area
illegal parking of cars and taxi drivers
wooden platforms
strong enforcement necessary
jaywalking pedestrians
rising rents
About the wooden platform for buses: Later I'll explain why the district decided to put up wooden platform. The general reason for a platform is that the sidewalk was lowered. In other words, there is no curb and the streets are on the same level as the sidewalk. In order to allow bus passengers a convenient entry to buses, a platform is necessary. Here you can see the wooden platform: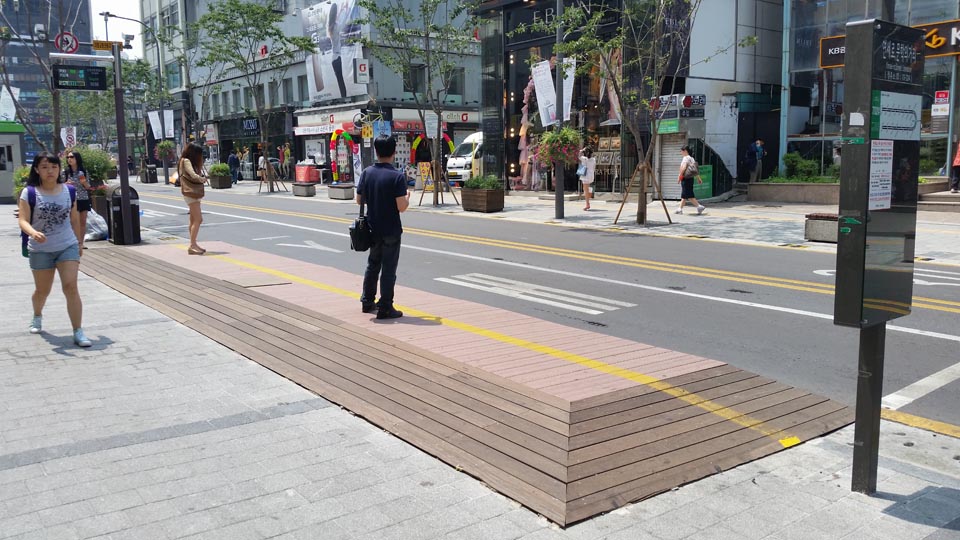 For the negative point of jaywalking pedestrians I have to say that the transit mall is a traffic-calmed area. The street was returned to the people. Even though it is mainly used by heavy vehicles, it doesn't mean that pedestrians are not allowed to cross it anywhere they want AS LONG AS it is safe and they don't impose a danger to other traffic participants.
Summary
The transit mall in Sinchon is actually a slow transition towards a car-free area. On weekends this road is already completely closed for any traffic. So I wonder why the local district didn't prepare it a little bit better.  The concept of a transit mall is nice but in my personal opinion I believe that areas, which are suitable for transit malls, could be also transformed into pedestrian zones, totally car and bus-free. Or as an alternative would be a shared space
I made a video in order to show the traffic flow and how the traffic regulator takes care that nobody turns right or left into Yonsei-ro.
Related Sources and Information: Analysis of Daegu's Transit Mall | Construction of Transit Mall | Opening | Plans for Yonsei-ro