On Saturday I had the pleasure to give a presentation about Seoul's urban development at the Seoul Real Estate Investing Meetup. They contacted me a few weeks ago and I was directly interested because I thought that it's a great opportunity to talk about Seoul's history and future from an urban planning perspective.
My lecture was divided into three parts:
What is Kojects?
Seoul's Development Until Now
Seoul's Development From Now
Seoul's Urban Development Until Now
Seoul's history as the capital of Korea (or former Joseon) goes back 600 years. However, it wasn't until the beginning of the 20th century that urban development and a population increased in Seoul. Thus, I focused mainly on the last 100 years. On Kojects I don't often take the time to talk about the history of Seoul. The Citizen Apartment Project article is the only article that I can think of. For the part about Seoul's history I used maps and material from the "Geographical Atlas of Seoul" (지도로 본 서울), published by the Seoul Institute. I tried to outline the modern history of Seoul in one slide with this slide: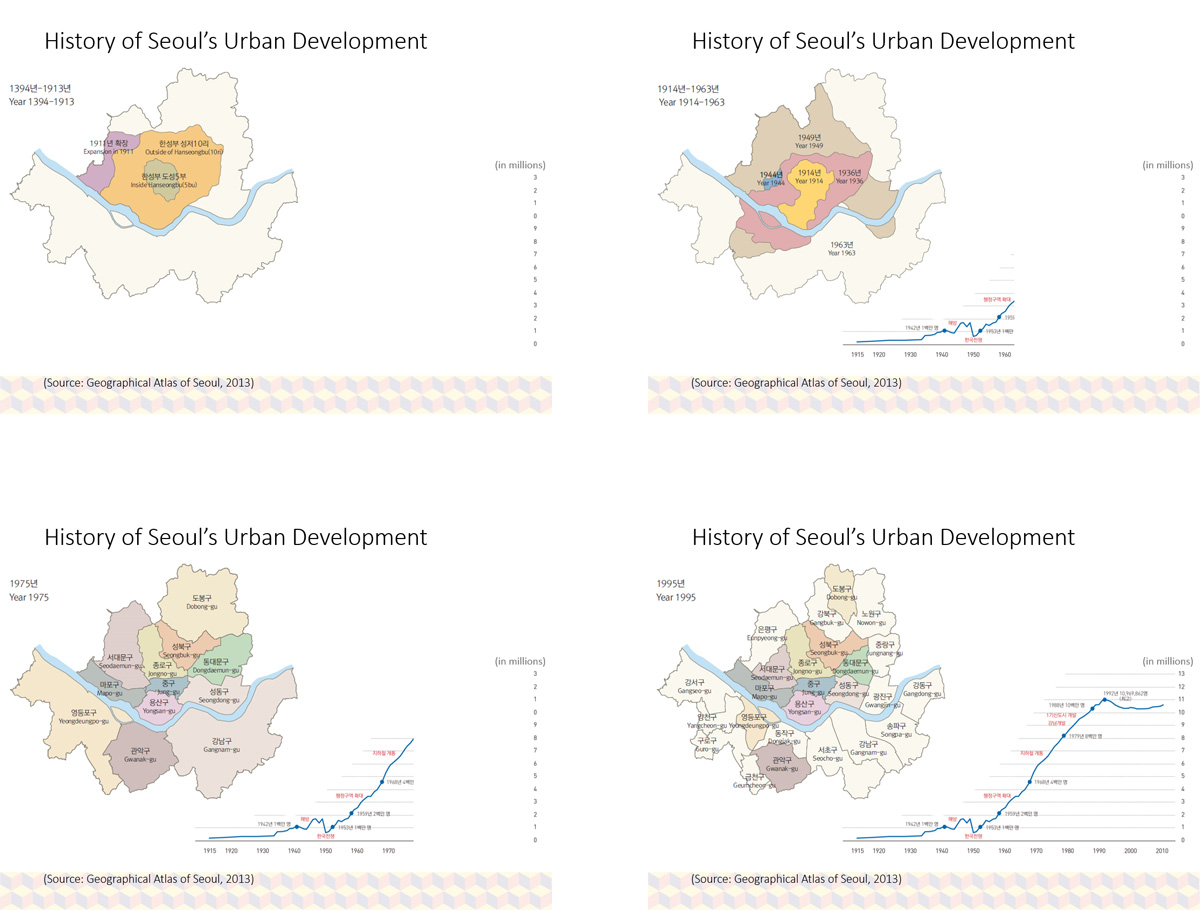 Seoul grew very rapidly, especially Gangnam. The expansion to the southern side of the river Han begun in the 1970s. This delayed development led to huge differences between Gangbuk (northern side of Seoul) and Gangnam (southern side). From the urban perspective, the northern side has an organic street network with many small side-alleys. Gangnam is a planned city with wide blocks. Planning during that time was very car-oriented. Read more about Seoul's urban fabric here on Andrew Stokols' website. Lately, the difference between the two sides of Seoul isn't as significant as it was before. The urban dynamics (gentrification and large-scale development projects like the Dongdaemun Design Plaza) are modernizing Gangbuk.
Then I showed development of housing, office space and public transportation. For example regarding housing, I talked about the recent development in Seoul's housing supply. In the last couple of decades Seoul and Korea as a whole experienced a large shift from big households with 5 or 6 members to a dominance of single households. In addition. the majority of Seoul's residents now live in apartments. By 2011, 59.7 % of the housing supply were apartments and actually, Seoul's housing supply is at a record high with over 98%.
Seoul's Development From Now
The next part looked into the future of Seoul, or more exactly into the future plans of the Seoul Metropolitan Government. The 2030 Seoul Plan, the newest master plan, is still in development but some basic information have been published. There will be a paradigm shift from growth and redevelopment towards regeneration. Instead of tearing down urban structures Seoul wants to revive them. The following slide gives some examples of this paradigm: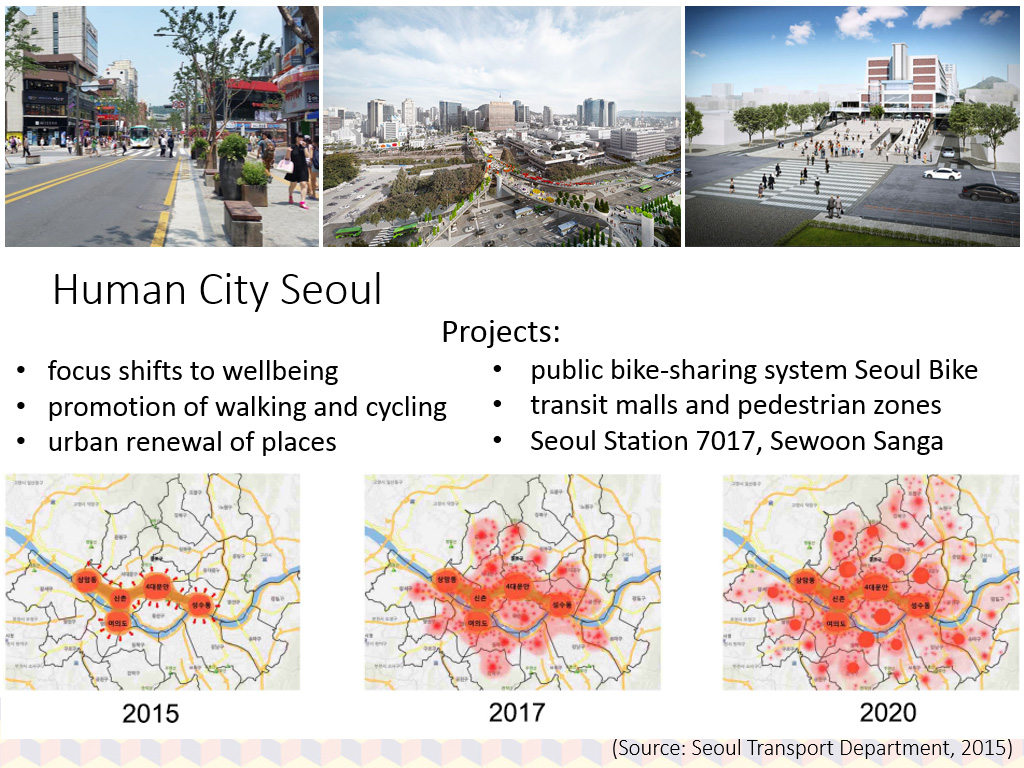 Here I introduced the public bike-sharing system Seoul Bike, Yonsei-ro Transit Mall, the transformation of the Seoul Station Overpass to Seoul Station 7017 and Sewoon Sangga. I also mentioned the new subway lines in Seoul. I dedicated a full slide on the Gyeonggi Train Express (GTX) and it seems that the audience was really interested in that project.
Video of the Event
The whole event was live-streamed via Periscope and saved to Katch. If you are interested in the topic, then you can watch the video here (or alternatively click here):
My presentation begins at 13:50 min and goes on for around an hour (plus a 10 minute break).
Even though the title of the presentation was "Where should you buy real estate in Korea? Ask an urban development expert." my goal was to provide dots for the audience that they can connect on their own. Because there is no easy answer to the question. The Seoul Real Estate Investing Meetup is for anyone who's interested in this topic or just wants to make new friends. Join their Meetup page (or Facebook Group) to stay up-to-date with their events.