Travelling between Gyeongsang and Jeolla provinces became slightly faster yesterday with the opening of a newly realigned section of the Gyeongjeon Line from Jinju to Gwangyang.
The new 51.5km double-tracked route cuts travel time between Gwangyang and Jinju by half an hour from 73 minutes to 42 minutes. Trains will be able to travel at higher speeds of up to 150 km/h, and the new section also completes a 158km section of continuous double-track from Samnangjin to Suncheon. Residents, commercial operators and the local economy can all expect to see benefits, with up to 157 services able to operate on the route per day — an increase from its previous capacity of 36 per day.
As with most realignments we've seen over the years, the number of stations has been reduced from 12 to five stations. Stations on the new section are Jinju, Wansa, Bukcheon, Hwangcehon, Hadong, Jinsang and Gwangyang. Construction on the upgrade began in 2006 and helped boost the local economy.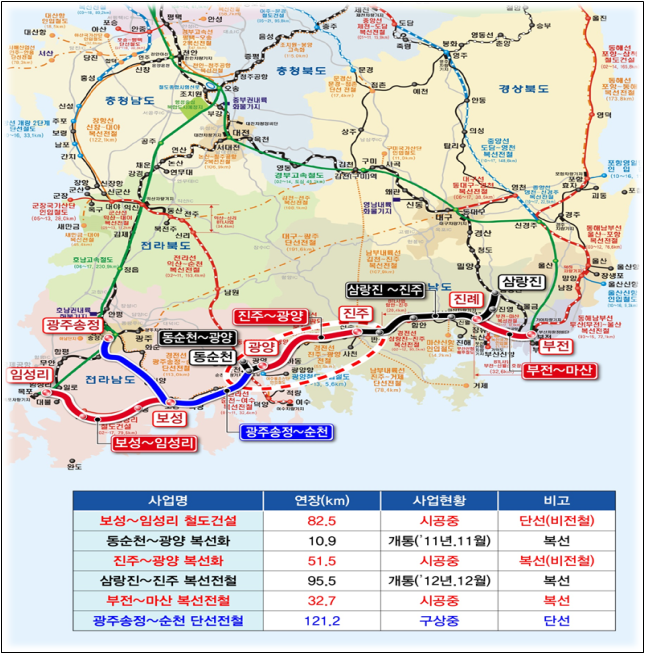 Taking a train between Gyeongsang and Jeolla provinces has never been easy or fast, and for a long time nearly the entire connection was a single-track, non-electrified line which wound its way around the countryside. Even with the new section, a train across the southern tip of the country from Bujeon to Mokpo takes over 6 and a half hours, and travelling between major cities in the provinces isn't an attractive option unless you're happy spending your whole day on the train.
Nevertheless, Korail has gradually been realigning and upgrading the line in separate phases, with Samnangjin – Masan, Masan – Jinju, and Gwangyang – Dongsuncheon all upgraded in recent years. Future sections to be upgraded include Boseong – Imseong-ri and Bujeon – Masan, both scheduled for 2020. This should also coincide with Korail's order of 30 EMU-250 trains for the Gyeongjeon Line by 2020.
While it's always a shame to see old tracks get shutdown, Hadong County confirmed last Wednesday that it will be converting several sections of the closed track into leisure areas for the public. 18.1km of track will be turned into a rail-bike facility and is expected to open in time for spring festivals next year. Plans include a 'Thomas the Tank Engine' train which will be used to transport railbike customers between Hadong and Hoecheon stations. In addition to this, by 2018 the area from Hadong Station to Seomjin Rail Bridge will be transformed into a park with walking tracks, bike paths, exercise equipment, a lookout and a cafe.
Sources: Seoul News | Official Press Releases
Image: Wikicommons