The Ministry of Land, Infrastructure and Transport (MOLIT) is moving ahead with plans to build Seoul's next generation of city-wide rail, the GTX.
The GTX A line will travel at a maximum of 180 km/h from Ilsan in north-west Gyeonggi-do across Seoul to Dongtan in the south-east of Gyeonggi-do.
The GTX (short for Great Train eXpress) will be a high-speed train service designed to help people travel across long distances within the Seoul Capital Area. While Seoul is an extremely well connected city public transport-wise, commuting to and from surrounding cities can still take a long time due to the number of stops public transport services make. Talk around the GTX has been going on for quite some time, and potential routes have changed several times.
The three GTX lines that are currently planned for the region are: GTX A (Ilsan/Kintex – Dongtan), GTX B (Songdo – Cheongnyangni), GTX C (Uijeongbu – Geumjeong)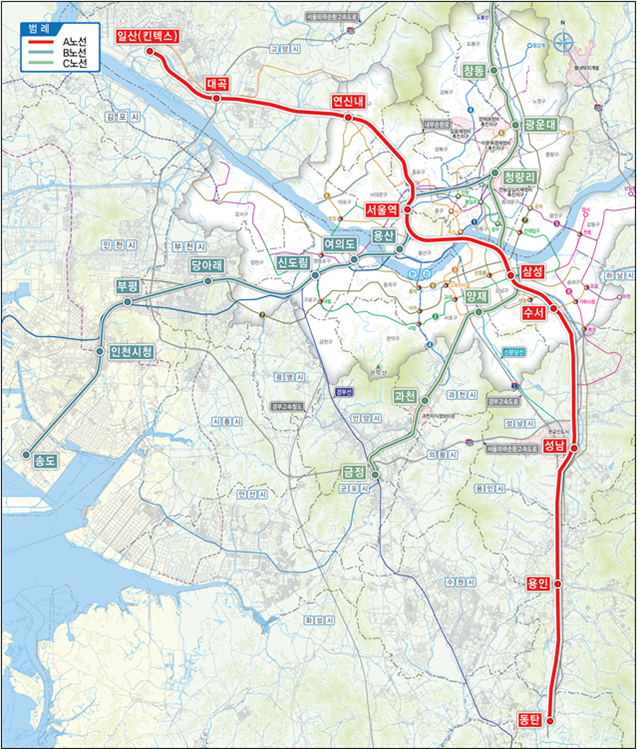 The latest announcement puts the opening date for the full GTX A line at 2023, with construction on the 37.4km section from Ilsan to Samseong to be contracted out to a private company (as opposed to the Korea Rail Network Authority). Construction should start at the end of next year, pending selection of a preferred company and final plans.
There are 9 stations on the line: Ilsan (KINTEX), Daegok, Yeonsinnae, Seoul, Samseong, Suseo, Seongnam, Yongin, Dongtan
The southern section from Samseong – Dongtan will open first in 2021, and is being built by the Korea Railway Network Authority (aka KR). Much of this route is already in place, as the GTX will share tracks with the SRT high-speed railway. GTX trains will share the SRT station already open at Dongtan, but will use a separate station at Suseo.
Once complete, the total length of the line will be 76.9km and will only take 36 minutes to travel from one end to the other. Services will have an average speed of 116km/h, 3-4 times faster than standard metro, and will reduce travel time within the Seoul Capital Area significantly. At the moment, getting from Kintex to Seoul Station takes 52 minutes by metro, but will take just 13 minutes by GTX.
Here's an outline of travel times for the route:
Ilsan (Kintex) – Seoul: 13 minutes
Ilsan (Kintex) – Samseong: 17 minutes
Samseong – Dongtan: 19 minutes
The GTX A is a 3.58 trillion won project which could change the way people commute and look for jobs or places to live in the future. The line is expected to attract average daily ridership of around 300,000 passengers, eliminating 50,000 car trips from the region's roads by 2025.
An extension to the north of the line from Ilsan to Paju is also being considered, and an investigation into the viability of this is underway.
This is an exciting project, so we'll keep  you posted with developments as they happen, including information on the GTX B and C lines.
Check out a video summary of the project below (Korean).