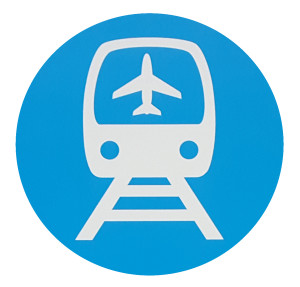 Seoul is easily accessible from Incheon International Airport by public transport and is well connected to the Seoul Metropolitan Subway system by the Airport Express Line, also know as the A'REX (인천국제공항철도 in Korean). The total length of the airport railroad is 58 km and traveling from one end to the other takes less than an hour.
The first trains on the line start at 5:20 am (at Seoul Station and Incheon Airport Station) and the last train departs Incheon Airport station at 23:57 pm and midnight from Seoul Station. The A'REX is part of the Seoul Metropolitan Subway system and standard transport cards can be used when travelling on All Stop Trains.
Incheon Airport Express Trains
There are two types of trains that operate on the Airport Railway:
Express Train (Incheon Airport – Seoul Station)
A non-stop service that runs between Incheon International Airport and Seoul Station
Tickets cost 8,000 won for an adult and 6,900 won for a child
1-3 express trains run per hour, taking 43 minutes in either direction
Express trains include extra service/features such as a porter, comfortable seating, storage for luggage, use of customer lounge and shuttles to affiliated hotels
If you're heading straight to Seoul or Incheon, have luggage and don't want fight your way through regular commuters who also use the line, then you might prefer to take this service.
All Stop Train
These trains are cheap, regular and stop at all stations. Average interval time is every 6-7 minutes.
Prices will vary depending on where you're going and a ticket to Seoul Station will cost 4,250 won with a single ticket and 4,150 KRW with a transportation card.
A trip to Seoul Station on this services takes 58 minutes.
Transfers to Incheon Line 1, Seoul Lines 1, 2, 4, 5, 6, 9, Gyeongui–Jungang Line
For more information on using the subway, see our subway page.
If you're getting on or off anywhere other than Incheon Airport or Seoul Station then you'll need to take this service. Be aware the during peak times commuters will also be using these trains and if you have luggage you may wish to sit near the door as it can become crowded.
For more information check the official A'REX website.




Airport Railroad Travel Times
| Station | Time (mins) to/from ICN |
| --- | --- |
| ICN | – |
| ICN Cargo Terminal | 4 |
| Unseo | 8 |
| Cheongna Intl. City | 19 |
| Geoman | 23 |
| Gyeyang | 29 |
| Gimpo Intl. Airport | 36 |
| Digital Media City | 45 |
| Hongik University | 49 |
| Geongdeok | 52 |
| Seoul Station | 56 |
After arriving at Incheon International Airport and leaving customs, follow the 'Airport Railroad' signs to the Airport Transport Center. The entry to the A'REX Express Trains is on the right side and the entry to the All Stop Trains is on the left side:

History of A'REX (Click to view)
Enjoy your ride from Incheon International Airport to Seoul Station via the A'REX!