Looking for SRT timetables? Check our SRT page
This morning Seoul's newest high-speed rail service,  the "SRT",  finally opened for commercial service from Suseo Station in Gangnam, Seoul.
The new connection, operated by Korail subsidiary "SR" (Supreme Railways) provides a much needed rail link for the south-eastern areas of Seoul and Gyeonggi-do. Up until now, residents in these areas have had to spend extra time traveling to Seoul or Yongsan stations in order to use high-speed trains. It will also be extremely useful for those traveling to Gangnam locations for business, as up until now buses had been the best way to get directly to this area.
The three stations on the line are Suseo, Dongtan and Jije (Pyeongtaek), and after that it connects with the main high-speed line which KTXs use. SRT services don't travel to all parts of the high-speed network, and passengers will need to transfer if heading to certain stations such as Yeosu or Changwon.  Tickets for SRT services went on sale near the end of last month and prices are generally cheaper than the KTX.
Some media outlets have mentioned that the SRT is "faster" than the KTX. It's important to note that it is only the travel time that is faster due to the more southern location of the station, plus it doesn't have to reduce speed when entering Seoul like the KTX does. Like the KTX, SRT trains travel up to 300km/h.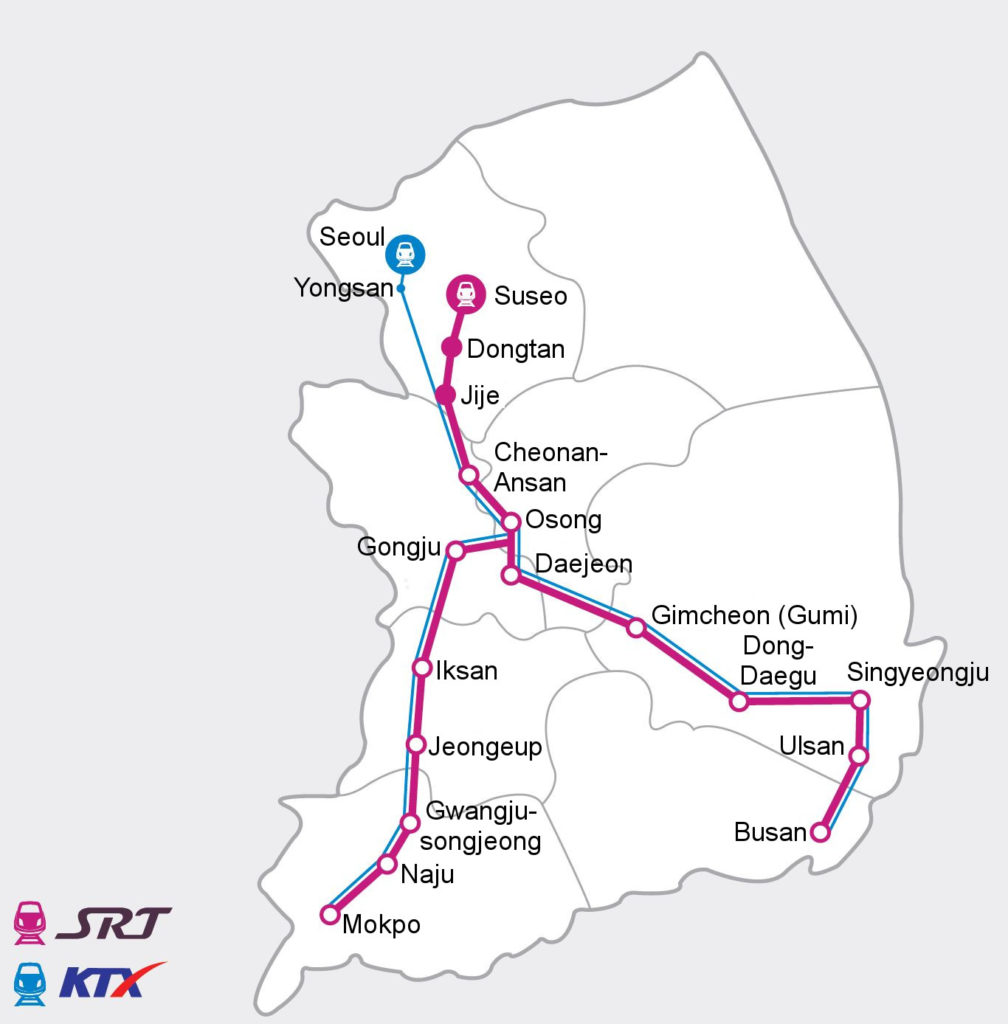 The fastest trip to Busan from Suseo is a mere 2 hours and 9 minutes, and 2 hours 6 minutes from Busan to Mokpo. However, most trips will take longer than this and how long yours takes depends on the service and how many stops there are.
Construction on the project began in 2011 and features Korea's longest tunnel at 52.3km, also making it one of the longest rail tunnels in the world. Only 7% of the 61.1km line is above ground, and Dongtan Station is Korea's first high-speed train station to have been built completely underground, with the train platforms located six floors down.
SRT services use KTX-Sancheon rolling stock, with 10 brand new trains in operation, plus 22 trains leased from Korail which will eventually be acquired by SR before the year is over.
Over the past decade, high-speed services have become increasingly popular and the opening of the SRT means a 43% increase in the total number of high-speed services nationwide during the weekend.
Subsidized Commuter SRT Service for Dongtan Residents
Dongtan residents will have the luxury of being able to commute to Seoul via the SRT at the subsidized price of 3000won until the GTX project is complete. In an agreement between the Korea Land and Housing Corporation (LH), KR and the Ministry of Land, Infrastructure and Transport, one commuter service will operate each way on weekdays.
The morning train from Dongtan leaves at 7:10am, arriving at Suseo at 7:25am. The evening train back leaves Suseo Station at 6:50 and arrives in Dongtan at 7:05. This schedule should give commuters enough time to travel to and from their workplace within Seoul.
For more information see our previous posts about the construction, preparations for opening and delay to opening.